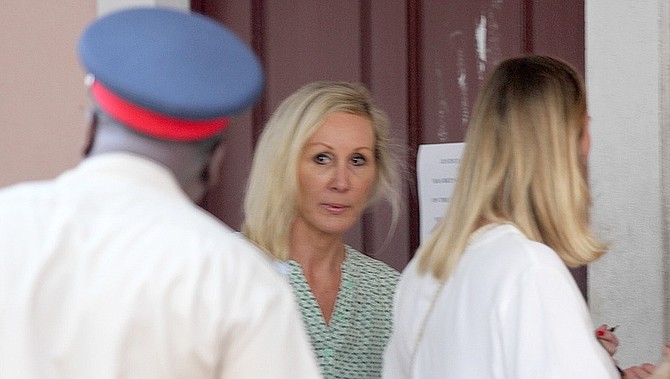 By LAMECH JOHNSON
Tribune Staff Reporter
ljohnson@tribunemedia.net
EXTENSIVE legal discussions on Friday concluded the second day of the high-profile murder trial of Donna Vasyli, who is accused of fatally stabbing her husband at their Old Fort Bay home.
The discussions, heard in the absence of the jury between Crown and defence lawyers for the 55-year-old Australian widow, were central to the remaining witnesses yet to testify in the case concerning the March 24 murder of Philip Vasyli.
When the 12-member jury was recalled to the courtroom, Senior Justice Isaacs informed them that they could not proceed "until I make a ruling on the next witness".
The ruling, expected on Monday at 2pm, will also be given in their absence before their return for the continuation of the case at 2.30pm.
Vasyli, who is on $200,000 bail, denies fatally stabbing her millionaire podiatrist husband at their home on Ocean Drive.
On Thursday, the jury was shown a 20-minute video of a bloody crime scene at a home in the Old Fort Bay community to which police were alerted.
The video footage began with police walking up the stone driveway of a compound with multiple properties. The cameraman makes a left turn onto a stone/grass pathway before turning left again onto an outdoor dining patio.
It is in this area the detective notes bloodstains on the beige tile floor of the patio and a blood stained, black handled knife on a wooden patio table. The ceiling of the patio as well as a glass door giving entrance to the kitchen had blood splatter.
The video showed more blood stains on the floor with footprints while on the kitchen counter, an uneaten slice of bread with peanut butter can be seen on a plate near two bloodied cigarette boxes.
The footage then zoomed in on the body of a deceased male, clad in a white shirt and navy shorts, lying face down in a pool of blood.
The investigator followed trails of blood to a bed and bathroom on the lower floor as well as upstairs, where blood could be found in bathroom bowls, and on pillowcases and gauze in the master bedroom.
The blood trail led to a side staircase to the ground floor, giving another angle of the deceased male.
The accused has retained veteran lawyers, Elliot Lockhart, QC and Murrio Ducille.
The prosecution's team is led by Acting Director and Assistant Director of Public Prosecutions Garvin Gaskin and Neil Braithwaite. The trial continues.