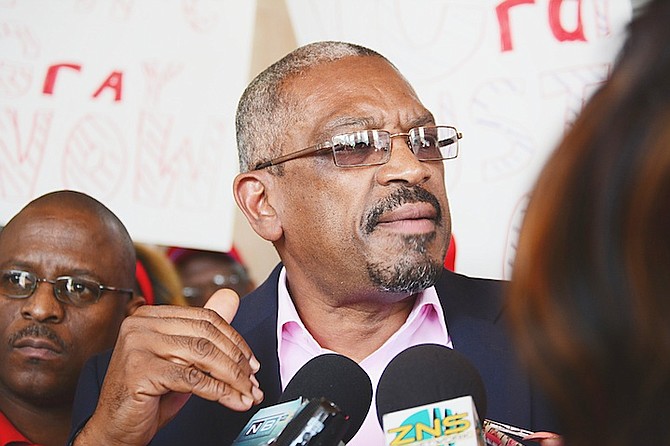 By KHRISNA VIRGIL
Tribune Staff Reporter
kvirgil@tribunemedia.net
AS the country's homicide count continues climb, Free National Movement Leader Dr Hubert Minnis said the capital has turned into a gun town under the watch of the Progressive Liberal Party, which struggles to get a handle on crime.
Dr Minnis blasted the government yesterday insisting the Christie administration is "pussyfooting" around with crime instead of aggressively taking measures to break the cycle of criminal activity.
The Killarney MP said the government needed to consider stiffening the penalty for gun traffickers because he was of the view that the supplier was just as guilty as the person pulling the trigger.
Dr Minnis also criticised the government yesterday as the murder count rose to 106 following the shooting death of a man who was driving on Mount Royal Avenue around 8am yesterday.
"The criminals are destroying this country," Dr Minnis said. "And sad to say, but guns are the leading weapon of choice. Nassau is turning into a gun town.
"If we are serious, we must advocate for harsher and stricter penalties. The government is pussyfooting with crime and it is getting worse and worse."
He further questioned the purpose of the government's highly touted programme Urban Renewal 2.0, specifically in inner city communities where crime continues to flourish, challenging law enforcement officials.
"The government continues to pump millions of dollars into Urban Renewal. But yet still crime is up. What is its purpose? Has it really achieved the objective? Urban Renewal has failed to make a dent on crime."
"The inner city is represented by (National Security Minister) Dr Bernard Nottage and Prime Minister Perry Christie but those areas are where we see the most crime."
The Killarney MP repeated calls for government funding for drones to assist the Royal Bahamas Police Force and expand CCTV in inner city communities.
The suggestions are a part of the FNM's 26-point crime plan which also includes: ramped up police presence; gun amnesty; strengthened intelligence through networking with community leaders and faith-based groups; increased use of technology, such as gunshot detection devices, mobile forensic equipment, and drones; victim counselling; and the establishment of a non-partisan Crime Commission.
FNM Chairman Michael Pintard has called for the prime minister to replace Dr Nottage as national security minister over his uninspired and lethargic response to mounting crime.
He was speaking in response to Dr Nottage's recent assertion that his critics were in for a "sad awakening" if they thought there was a quick fix for crime.
"What's sad is that he's just realised it," Mr Pintard said recently, "because he was one of the persons most critical of the former government. He is asking for a bipartisan approach now, which is what our (FNM) plan has always been.
"He is ill-suited for the job, his comments are pretty much the same. Now that the shoe is on the other foot he has a different look on the matter. He's out of energy, out of ideas.
"The prime minister needs to look at an alternative, someone who would have credibility to deal with these issues. Dr Nottage is not it, and Keith Bell (junior minister of national security) is substantially worse than him," Mr Pintard said.