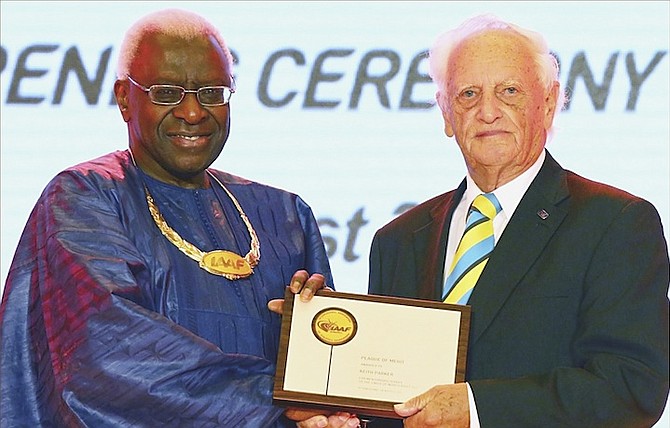 KEITH Parker, MBE, veteran Bahamian track and field coach and administrator, received an extraordinary honour from outgoing International Association of Athletics Federations (IAAF) President Lamine Diack at the opening of the Beijing IAAF 50th Anniversary Congress on the eve of the Beijng World Championships for track and field.
The award, the "IAAF Plaque of Merit, awarded for meritorious service to world athletics," was presented to coach Parker in recognition of his 50-plus years of service to world track and field, particularly in the North and Central Americas and Caribbean region. (NACAC)
Noted NACAC President Victor Lopez: "Keith was instrumental in establishing courses for coaches throughout the region, particularly in field events, in addition to coaching generations of Bahamian athletes at the highest level."
Coach Parker arrived in The Bahamas in 1959 to teach mathematics, science and physical education at the Government High School. Prior to this, he represented England and Great Britain internationally in the decathlon and long jump. He represented the Bahamas in the West Indies Federation Games in the early 60s and held Bahamian records in the long jump and javelin.
He coached athletes who held Bahamian records in nine different events. Some of these records still stand, including Brent Vanderpool in pole vault, Lavern Eve in javelin and discus and Bradley Cooper in shot put and discus.

Coach Parker was inducted into the Sports Hall of Fame in the Bahamas and CAC some years ago. He received the IAAF Veterans Pin in 2011 and has been honoured by the Rotary Club of East Nassau as a Paul Harris Fellow and Sapphire Awardee and is a recent recipient of the Sir Durward Knowles Humanitarian Award from the Rotary Club of East Nassau and named a distinguished citizen by the Bahamas Chamber of Commerce. He received the MBE award for service to the community in the 1980s from then Governor General Sir Gerald Cash.
Still serving as a top sports administrator, he was executive director of the local organising committee for the hugely successful 2014 and 2015 IAAF World Relays, Bahamas.
Also still coaching, Parker works with a small number of athletes, including high jumper Trevor Barry, a former bronze medallist in the IAAF World Championships in Korea and a finalist in Beijing.
Said Coach Parker: "This Plaque of Merit was a great honour for me personally and I believe focused additional attention on the Bahamas as a small country, able to achieve and be recognised on the world stage of track and field athletics."