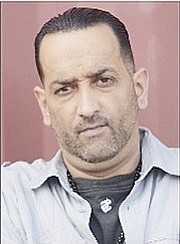 By Inigo 'Naughty' Zenicazelaya
IN all my years of watching the NFL, and its season kickoff weekend in particular (I haven't missed one since the old millennium), I've never seen so many big name stars go down with significant or season-ending injuries in week one!
The NFL was turned into a virtual M.A.S.H unit on opening weekend. Concussions, torn ACLs and MCLs , dislocations and separations galore!
• Here's a closer look at who's got a 'Boo boo' and where. Starting off with two of the best wide receivers in the game today.
This bit is extremely difficult for me however I'm a professional. (Exhale)
COWBOYS All Pro wide receiver Dez Bryant suffered a broken bone in his right foot in Dallas' win over the Giants on Sunday night.
Bryant is to have surgery on Tuesday. The belief is rehab will have Dez ready to return in closer to four than six weeks.
The COLTS' T Y Hilton is day-to-day with a knee bruise, but the team will be cautious with their top target.
FANTASY FOOTBALL ALERT: If Hilton misses time, the Colts need first-round pick Phillip Dorsett (two catches, 45 yards in his NFL debut) to step up. Donte Moncrief's role will expand on the outside in Hilton's absence and Andrew Luck will need more from Andre Johnson, who was unimpressive in his first game as a Colt.
Other injuries worth monitoring:
PANTHERS coach Ron Rivera said on Monday that linebacker Luke Kuechly is currently in the concussion protocol but is "OK".
The JETS announced linebacker Lorenzo Mauldin (concussion) has been released from the hospital. The third-round pick left the field on a spinal board after falling motionless under a scrum for a loose ball in Sunday's game against the Browns.
An MRI came back negative, per the team. Cromartie has a sprained knee and is week-to-week. He has not been ruled out for Monday's game against the Colts.
RAVENS DL Terelle Suggs tore his Achilles Tendon again and is on IR.

REDSKINS coach Jay Gruden said wide receiver DeSean Jackson has a pulled hamstring. Jackson is expected to be out for three to four weeks, though Gruden said there is a possibility that Jackson could return sooner.
FANTASY FOOTBALL ALERT: Avoid drafting Jonny Manziel, the QB is 'fools gold'. You will regret it!
BROWNS Head Coach Mike Pettine said Johnny was the man and is in the gameplan for Sunday.
CHARGERS guard D J Fluker suffered a high ankle sprain in Sunday's victory over the Lions. Fluker will have an MRI but it is believed he will be sidelined for four to six weeks.
An MRI confirmed CARDINALS running back, Andre Ellington, has a minor (Grade 1) PCL sprain in his knee. He will miss next week's game against the BEARS, and potentially the week following that.
SAINTS safety Rafael Bush tore his pectoral muscle on Sunday again. Bush's injury adds to the slew of injuries in the Saints secondary: Kennon Lewis (hip surgery), Jarius Byrd (knee) and P J 'Dot' Williams (torn hamstring).
RAIDERS Safety Nate Allen suffered a torn ACL on Sunday, according to a source who has spoken to the player. He will have an MRI to confirm the the injury. Raiders quarterback Derek Carr suffered a bruised thumb in Sunday's game against the BENGALS. Carr is waiting on MRI results. (His status will depend upon on if the swelling goes down.)
COWBOYS rookie pass-rusher Randy Gregory has a high ankle sprain, an MRI confirmed. He will miss four to six weeks.
PANTHERS rookie offensive tackle Daryl Williams suffered a sprained MCL and will be out two to four weeks. Prior to the injury, Williams was to rotate in on the offensive line.
BRONCOS coach Gary Kubiak said defensive tackle Malik Jackson does not have a concussion.
I hope you didn't get injured just reading this!
Hopefully this will get you up to par regarding your NFL team, and give some 'waiver wire' insight into Fantasy Football.
Until next week, keep swinging for the fences. Heck, you're bound to hit something!
• Naughty presents 'Mischief and Mayhem in da AM' on KISS FM 96.1 from 6am to 10am, Monday to Friday. Comments and questions to naughty@tribunemedia.net