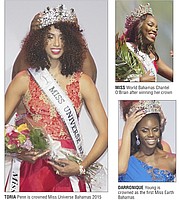 By ALESHA CADET
Tribune Features Reporter
acadet@tribunemedia.net
THE Miss Bahamas Organisation promised there would three title holders this year and they kept their word. Three young ladies, of a lineup of 11, fought to their way to the top and walked away with their crowns during the pageants' grand finale at the Atlantis Theatre this past Sunday.
Toria Penn was crowned Miss Universe Bahamas, Chantel O'Brian was named Miss World Bahamas and Darronique Young was declared the first Miss Earth Bahamas.
Tavette Darville was first runner-up to Miss World Bahamas and Sienna Evans came second in the Miss Universe Bahamas competition.
For Chantel, the third time was definitely the charm, as this was her third consecutive year competing in the MBO pageants. She thanked her mother for encouraging her to never give up even after her losses.
"Last year she was the first one to say, 'Well, when you go back just get a nice gown and a really good sponsor'. She is so inspiring. I am happy to sit here and know that I didn't give up and it was all worth it; doesn't matter how long it took, it happened. I have waited a long time for this moment, a feeling of relief," said Chantel of her mother.
She encouraged all young Bahamian women interested in pageantry to just go for it.
"I didn't think that I would be here in this position, given where I started, so I encourage them to put their fears aside and follow their passion," she said.
Her plan going forward is to use her platform of "Youth Development with Special Awareness of Child Abuse" to get more in touch with children in the community.
"My mother is a person that nurtured me, and the love that she gave me helped in bringing me here to this moment and I want to do the same for others," she said.
With tears in her eyes, Toria, the new Miss Universe Bahamas, expressed her gratitude for her team, namely her mother and father who were sitting in the audience. The newly crowned beauty queen is certain she will take the Bahamas to the top at the international Miss Universe Pageant later this year.
Toria said as a curvy girl the hardest part of the competition for her was sticking to the dieting, but in the end it also taught her a few new things about herself.
"I now know that I actually can push myself to make things happen, and that is why this crown is on my head," she said.
MBO President Michelle Malcolm said as an organisation they were confident that which ever way the voting went they would in the end up happy with the end results, given the great lineup of contestants.
"As you can see here, it was a very stiff competition. These judges here had some beautiful young ladies to choose from," Ms Malcolm said.
"I think we have three amazing women who are going to represent the country internationally and I am looking forward to working with them. I have gotten to know all of our contestants over the past several weeks and I must say that this was a unique group because these young ladies were genuinely very nice people."
Speaking on MBO's inclusion of the Miss Earth franchise, Ms Malcolm said by accepting the invitation to acquire the Miss Earth title for the Bahamas, MBO now has the three largest pageants in the world under its umbrella. She said these are exciting times in Bahamian pageantry and the MBO is looking forward to a bright future.
As the new Miss Earth, Darronique said she is proud to be a part of such an organisation as the MBO.
"If anyone knows me they know that I am someone who is very supportive and adamant about going after your dream, and this year I went after mine and I was successful in doing it. The Miss Earth organisation focuses more on the environment, which is extremely different from my platform of health, but this does not mean I won't continue with my platform, it just means that I have extra to work on and extra to promote this year," said Darronique.