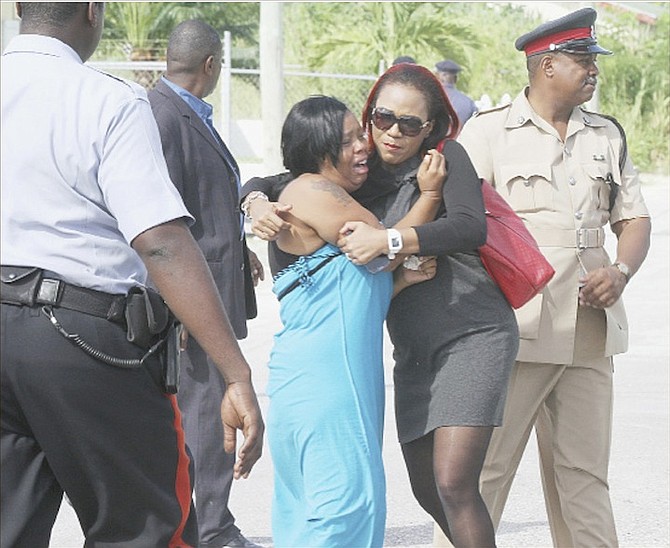 THE murder-accused boyfriend of well-known anti-crime advocate Khandi Gibson was shot dead yesterday morning taking the country's murder count to 107.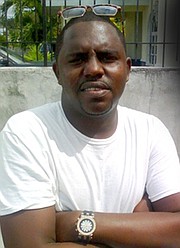 Roberto "Bonaby" Williams, aka "Bow", became the seventh homicide victim in five days when he was gunned down when leaving a residence near the Sadie Curtis Primary School around 8am.
Williams was on bail for two murders at the time of his death, according to Assistant Commissioner of Police Stephen Dean.
He was the boyfriend of Khandi Gibson, the president of Families of All Murder Victims (FOAM), a non-profit organisation which aims to assist people whose relatives were murdered or were victims of crime.
At the scene yesterday, Ms Gibson was visibly distraught as she mourned with family members and did not speak with the press.
Williams' lifeless body was found lying in front of an apartment building located somewhere between Pinewood Gardens and Nassau Village, according to police, who have not yet issued an official identification.
Blood could be seen on the ground by the driver's door of a blue SUV parked in the yard where the incident took place.
Police Chief Superintendent Clayton Fernander said: "The only info we have this far was he was leaving this building when he was approached by two armed men who shot him to the body and fled. That is the only information we are working with at this time, and as we move with our investigation we will continue to bring you up to date. 
"We want to send an appeal out to members of the public who may have seen or may have heard anything in this area to please reach out so we could assist and bring some closure to this matter."
According to court documents filed in the Office of the Attorney General, Williams – along with another individual – was previously charged with murder, attempted murder, attempted armed robbery, abetment to murder and abetment to armed robbery in connection with an incident that occurred in 2013. 
Yesterday, however, FOAM's Vice President Tomiko Evans said despite Williams' alleged past, the man he knew was a "good person".
"To me, the person I know was a good friend," Mr Evans said. "He was a childhood friend. I knew him long time. Like we all do, everybody have issues in life. Nobody's perfect. And he was in the process of overcoming his issues. Despite the fact that what happened to him, he was a good person. I don't look at a person's past, I look at their future." 
Meanwhile, Carlos Reid, a friend of Ms Gibson, called for the Bahamian community to do what it can to "rid our country of these guns".
"These incidents becoming too frequent for us now," Mr Reid said. "The police only could do what they could do, the authorities only could do what they could do. I think it's time now as a society to be able to do what we can do. 
"Too many guns right now on our street; we have to find ways how we can get them off. We got to find ways how we teach our young people conflict resolution and anger management. I believe that we are in a crisis in our country and we have to act as so."
Williams' death was the seventh homicide in the country in five days and the fifth in New Providence.
It took the murder total for 2015 to 107, according to The Tribune's records.
The country's murder count has surpassed 100 for the fifth consecutive year and is on track to supercede last year's count of 123.
(This article originally stated that the 2014 murder count was 122 - that has been corrected)