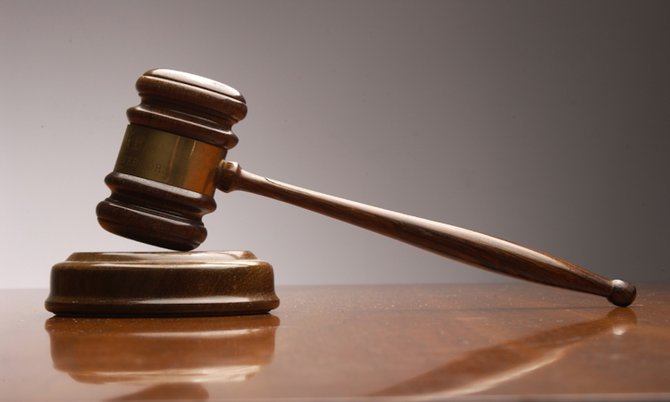 By LAMECH JOHNSON
Tribune Staff Reporter
ljohnson@tribunemedia.net
A MILLIONAIRE podiatrist's alcohol, prescription drug and cocaine abuse placed a strain on his business relations and marriage, a Supreme Court jury heard yesterday.
The fourth day of the high-profile murder trial of Donna Vasyli saw Crown prosecutors exhibit three statements – from a renowned financial advisor, housemaid and handyman of 59-year-old Philip Vasyli – which described their time with the couple up to the day before Mr Vasyli was found dead in their Old Fort Bay residence on March 24.
His 55-year-old widow denies fatally stabbing her husband at their home on Ocean Drive.
Yesterday's continuation of the case before Acting Chief Justice Stephen Isaacs brought Detective Jermaine Stubbs to the witness stand. The crime scene investigator said that on March 24, he received information that led him to the gated community where he received information and instructions.
He photographed the exterior of the property as well as the interior of the home, which he noted to be mostly intact. He swabbed the lower and upper floors of the home where blood stains were located.
When cross-examined by Elliot Lockhart, QC, Detective Stubbs admitted that he did not have training in lock-picking but had investigated house break-ins during his 15-year service on the police force and knew what signs to look for. He agreed that the northern side of the Vasyli residence was completely open and accessible.
Prosecutor Neil Braithwaite entered the statements of Nicolasa Quintano, Myles Pritchard and Alejandro Quintano into evidence to be read into the record.
The statement of Nicolasa Quintano, a Peruvian, on March 26 to police was read first.
"I came to the Bahamas in 1996 where I worked as a house maid" but it wasn't until 2001 that she "started working for the Vasylis at their home in Old Fort Bay".
"On March 23, I arrived to work at close to 9am where I took up my normal duties. Both Mr and Mrs Vasyli were at home. I made breakfast for Mr Vasyli and took it upstairs to him," the maid said.
"Mr Vasyli came down and went about what he had to do. Sometime around 3.50pm, while in the laundry room, I heard a noise. I came out and I saw Mr Vasyli lying on the ground with a broken picture frame. I assumed the sound I heard was him falling down the stairs. I noticed blood and I asked him if he were all right."
"He said yes," the maid added before noting that Mrs Vasyli came and asked him what happened.
"I went to get some alcohol to clean his wounds," she said, and upon doing so, "I put cream on several small cuts."
"I went back downstairs and a few of Mrs Vasyli's friends were there. Before I left, I hid the liquor in the dryer in case Mr Vasyli looked for it," the jury heard.
The maid added that the following day, she received the news of Mr Vasyli's death and she told police that "during the time working at the Vasylis, I've never seen any violence in the house."
"The only small arguments I would hear is when she would tell him to stop drinking because it was bad for his health," the court heard.
Myles Pritchard, an international financial advisor, said in his statement that he had known Mr Vasyli for 22 years.
"In the past six to nine years, Phil developed an alcohol abuse problem and it caused problems in his marriage," Mr Pritchard told police, adding that he and loved ones intervened and got Mr Vasyli to consider rehabilitation.
"Phil completed rehab but he always relapsed," Mr Pritchard revealed, adding that the podiatrist "then started using prescription drugs and cocaine".
"Our business relationship became strained but we continued to do business and remained friends," the court heard. Mr Pritchard said he had messaged his friend inviting him and his wife to California, but the offer was declined.
"On March 22, 2015, Donna sent a text inviting us to Old Fort Bay to see their newly constructed home," the advisor said, adding that he and his wife, Jody, arrived in the Bahamas the following day around 3pm.
"Jody and I arrived at Phil and Donna's home and Donna told us Phil was drunk and fell downstairs. Donna said he had been drinking since Friday," the jury heard.
Mr Pritchard said he spotted a wound on the shoulder of his friend, who was wearing only dark swim trunks.
"I could tell Phil was intoxicated from his speech and movements," he said, before noting that the housemaid, who he didn't know, was also at the home.
Mr Pritchard said Mr Vasyli complained of feeling light-headed and said he wanted to go upstairs to sleep. "Donna instructed the maid to put towels on the bed," the advisor told police.
Mr Pritchard said after Phil left the patio where they were, their conversation shifted to his substance abuse.
"I encouraged Donna to treat Phil with tough love," the jury heard before Mr Pritchard's statement continued saying that "Donna said she wanted to leave for a while".
She had apparently thought of going to Australia with her nephew, "Minnie", and had already picked out clothes for the trip.
Mr Vasyli returned, claiming that he was not feeling sober, "and Donna was encouraging Phil to drink some water".
Mr Pritchard said Donna took his wife on a tour of the home while he and the nephew engaged in conversation for 20 minutes.
"Jody and Donna came back and we exchanged pleasantries and we encouraged Donna to go to Australia with Minnie," he said, adding that they rejected Donna's offer for them to stay at the house.
"Donna was fine. She didn't look angry and it appeared as though it was a normal drink day for Phil," Mr Pritchard told police.
However, he did admit that he knew of at least one occasion when Mr Vasyli, in his drunken stupor, got physical with his wife at their home in West Palm Beach, Florida.
"I'd known that during this relationship, Phil and Donna had been separated numerous times but ended up back together again," he added.
The following day, he received a phone call telling him of his business partner's demise.
Alejandro Quintano told police that he came to the Bahamas in 2003 and worked for the Vasylis as a gardener and handyman. He left the country and returned in 2007 but did not work for the couple again until 2009.
The handyman said Philip Vasyli travelled more often than his wife.
Speaking of the day in question, "when I got to the breakfast area, I saw a black handled blade with blood".
Believing that someone may have cut themselves, he "picked it up and put it on the table next".
"I then noticed quite a bit of blood. It looked like it was sprayed on the ground. I went to a side bedroom window and no one answered. I moved over to the kitchen door and no one answered," Mr Quintano said.
"I looked through the blinds of the kitchen door and I saw my boss on the floor. He was lying on his side," the handyman told police.
He grabbed his emergency keys and entered and told police that his boss "felt cold".
The handyman said the house was silent and he did not see Mrs Vasyli. When he attempted to use the phone, it was not working, the court heard.
"I drove to Lauren's (the Vasylis' daughter) house which was five minutes away. Lauren and her husband came out right away and I told them 'su papi is dead'. They knew right away what I meant  and Mrs Vasyli hugged me and told me to calm down," the jury heard.
While Lauren stayed at the house with her baby, her husband, Mrs Vasyli and the gardener got into their van and drove to the gated community's security.
He said the son-in-law spoke with the security, but he did not know what was said.
"I showed them what I found because Mrs Vasyli stayed in the van," the handyman told police.
The trial resumes today at 10.30am.