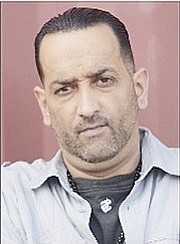 By Naughty
naughty@tribunemedia.net
EASY people it's not how you start it's how you finish.
I went 8-8 in week one (been there, done that, got the T-shirt). No biggie!
As I said before, opening week in the NFL is rife with upsets and one-week wonder stars ... and this year a boat load of injuries to superstars at every position.
No worries though, the party really starts in the NFL after week four, both on the field, as well as in the picks and Fantasy Football.
No team has formed their true identity yet, one has to factor in injuries, the schedule, the bye week and the surprise performers and underachievers on the roster moving forward.
So to this end, it's time to put some Windex on the old crystal ball and get back on track. Here's who I like this week:
BRONCOS vs CHIEFS
Don't pass judgement yet on 'old' Peyton Manning, despite looking like and throwing like a 'Walmart Greeter'. I think it's just a little harder for him to adjust to new Head Coach Gary Kubiak's new offence at his advanced sporting age. Peyton will get it down in short order.
Until then the run will be emphasised in Denver, C J Anderson as the lead back to set up play action downfield strikes to DeMaryius Thomas.
The Broncos defence is stout. The unit stepped up big last week to seal the win against the Ravens.
I see improvements from the Broncos this week but not enough to get the win on the road in Kansas City.
The Chiefs came out like gangbusters last week against the Texans on the road, and I like them to continue the effort this week at home versus a division rival.
The defence plays big in KC, Jamal Charles gets loose and Alex Smith dinks and dumps to TE Travis Kelcie and WR Jeremy Maclin in the Chiefs' big home victory.
Chiefs 24 Broncos 20
PATRIOTS vs BILLS
In my opinion the Patriots were up to their old shenanigans again (Headset-gate) and the Steelers assisted the cause with key turnovers. Brady and 'Gronk' will get theirs, but it won't be enough. The Bills new Head Coach Rex Ryan has brought his dislike for the Patriots to upstate NY.
The young Bills are balanced offensively and dominating defensively, the perfect recipe for a huge upset at home against a hated division rival.
Tyrod Taylor is quietly becoming a steady leader at QB for the Bills; throw in RB 'Shady' McCoy and WRs Sammy Watkins and a resurgent Percy Harvin and it spells the first loss of the season for the defending (Cheaters) ... Champs!
Bills win at home going away.
Bills 27 Patriots 20
TITANS vs BROWNS
Wow do we really? Okay we must!
Mariota on the road again this week.
Titans 24 Browns 13
TEXANS vs
PANTHERS
Until Ryan Mallett in named starting QB all won't be right in Texas. The Texans defence is rock solid and J J Watt is a beast; however, injuries (Arien Foster) and a tough road venue drops the Texans to 0-2.
The Panthers are mean at home and move to 2-0 behind QB Cam Newton and that staunch defence.
Panthers 20 Texans 17
CARDS vs BEARS
The Cards prove their worth with a big 1pm road victory in Chicago.
The Bears will play hard at home and put up a good fight. I just like the Cards in this one with surprise and inspired showing of CJ2K at RB for an injured Andre Ellington.
Cards 27 Bears 20
CHARGERS vs
BENGALS
I must admit I didn't see the Chargers playing the way they did last Sunday, coming from 17 points down to win.
QB Philip Rivers has got that 'gunslinger' look about him, WRs Keenan Allen and Stevie Johnson compliment Rivers well, while Danny Woodhead provides a spark at RB.
Andy Dalton is no slouch at home, and he has his share of weapons; WR A J Green and RB Jeremy Hill are just two that will be on display on Sunday.
Head Coach Marvin Lewis always has the Bengals defence ready: however the Chargers are on a roll right now!
Chargers 30 Bengals 27 (OT)
LIONS vs VIKINGS
Both of these squads let me down last week, so out comes the 'lucky' silver dollar for the coin flip for this NFC North grudge match.
Heads it is - the Lions on the road in Minnesota.

Lions 24 Vikings 20
BUCCANEERS vs
SAINTS
Somebody is going to be 0-2 in the NFC South after this one.
Considering the Saints are at home and were not half as bad as the Bucs in their season opener I'm taking Brees and the boys at home on the bayou.
The growing pains continue for Mr Winston!
Saints 31 Buccaneers 20

FALCONS vs GIANTS
I've got to ride the hot hand and ' Matty Ice', Falcons QB Matt Ryan, is on fuego. Look for the hot streak to continue on the road with WR Julio Jones and rookie RB Tevin Coleman to get into the act.
The Falcons defence is also improved. The Giants on the other hand look 'snake bitten' after last Sunday night's meltdown in Dallas. The hangover continues into this week at home.
Falcons 24 Giants 20
49ERS vs STEELERS
The Niners showed us all something last week, as did the Steelers. Clearly two teams going in opposite directions.
Look for Niners' RB Carlos Hyde to shine and the defence to hold their own.
Rothlisberger to Brown and Miller often but to no avail at home.
Niners 20 Steelers 17
RAMS vs REDSKINS
No let down here. Head Coach Jeff Fisher will have the Rams ready to roll on the road in this one.
The Redskins look to be improved and competitive but not enough to buck the Rams.
Rams 27 Redskins 17
RAVENS vs RAIDERS
Both of these teams stunk up the joint last week. Where's that silver dollar?
Raiders at home in honour of my good friend Eddie Carter.
Raiders 21 Ravens 20
DOLPHINS vs JAGS
The Fins go upstate and prove who's the best team in Florida. (See Dolphin fans, at least you're #1 somewhere)
Not to hard to do. Dolphins win!
Dolphins 24 Jags 10
COWBOYS vs EAGLES
Big Division game early. Both left a lot to be desired last week, however my Cowboys showed character.
Points go up in this one but the speedy offence of the Eagles will cost them late as their defence wilts against the Cowboys' best offensive line in football.
Cowboys behind Romo to WR Terence Williams stepping up for an injured Dez Bryant and RB Joseph Randall on the road.
Cowboys 27 Eagles 24
SEAHAWKS vs
PACKERS
I can't even touch the 'Hawks until they get strong safety Kam Chancellor back. He's the heart and soul of this team. Also the play-calling in Seattle sucks.
Packers at home behind QB Aaron Rodgers and workhorse RB Eddie Lacy.
Packers 30 Seahawks 24
JETS vs COLTS
Reality check for both of these squads. One isn't that good and one isn't that bad after week one.
The good one shows up at home. Colts with plenty of Luck!
Colts 24 Jets 20
• Inigo 'Naughty' Zenicazelaya presents 'Mischief and Mayhem in da AM' on KISS FM 96.1 from 6am to 10am, Monday to Friday. Comments and questions to naughty@tribunemedia.net