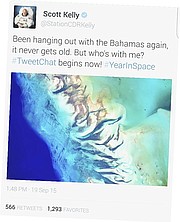 FOR astronaut Scott Kelly, the sight of The Bahamas from his vantage point on board the International Space Station has been a regular talking point on Twitter - sending out photos of the beauty of the nation as seen from space.
And now, the country's Ministry of Tourism is to extend an invitation to the astronaut to come and see that same beauty at close quarters once his year-long mission orbiting the earth comes to an end.
Kelly has been in orbit for the last six months and has been documenting his voyage on social media, sharing images of the earth from his vantage point with more than 421,000 followers. He has posted about the beauty of The Bahamas on several occasions.

On April 26, the American astronaut showed his daughter "the most beautiful place from space" when he tweeted an image of The Bahamas.
On July 19, he posted another stunning image of the archipelago with the comment, "Bahamas, the strokes of your watercolors are always a refreshing sight."
His most recent images of The Bahamas from space came on September 18th and 19th when he posted, "The Bahamas never fails to impress!" and "Been hanging out with The Bahamas again, it never gets old."
Joy Jibrilu, the director general of the ministry, said: "This is amazing organic marketing for us.
Here is this astronaut, who the whole world is watching because he is making history, talking about how beautiful our country is. We must bring Scott Kelly here to The Bahamas, not only to thank him, but also to show him the country that is bringing him so much joy while he is in space."
If Kelly stays until March 3, 2016, Kelly's 342-day visit will be the longest consecutive stay in orbit by a NASA astronaut.
"After such a mission, who wouldn't want to relax on our beautiful beaches? I think he has earned himself a much-needed vacation in The Bahamas.
"We would be more than happy to host him and his family," Ms Jibrilu said.