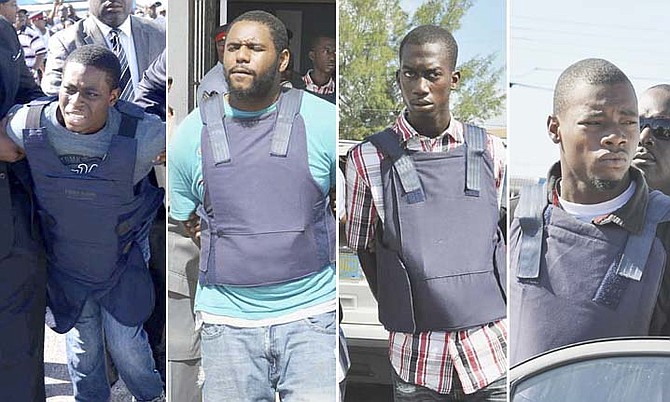 By DENISE MAYCOCK
Tribune Freeport Reporter
dmaycock@tribunemedia.net
FOUR men accused of killing a husband and wife in Deadman's Reef, West Grand Bahama, were formally charged with murder and armed robbery in the Eight Mile Rock Magistrate's Court on Monday.
Paul Belizaire, 29, and Devaughn Hall, 22, both of Pinedale, Eight Mile Rock; Allan Alcime, 22, of Hanna Hill, Eight Mile Rock, and Virgill Hall, 22, of Grenfell Avenue and Columbus Drive, Freeport were arraigned before Magistrate Gwen Claude.
The accused men were wearing bulletproof vests when they arrived at the courthouse shortly after 10am, under heavy police guard. A large crowd of onlookers who gathered behind barricades shouted at the men as they arrived and as they were escorted to police headquarters in Freeport after their arraignment.
The accused men were quickly escorted inside the small courtroom, where only relatives and close friends of the deceased were seated. Devaughn Hall appeared to be hurt and was limping as he entered the courtroom.
The atmosphere inside the courtroom was tense and police had to call for order when relatives began verbally attacking Devaughn Hall, who had complained about his leg as he was being escorted into the courtroom.
At one point, a distraught relative of the victims became emotional at the courthouse and had to be restrained by officers after leaving the courtroom.
The men stood in the prisoners' dock while Magistrate Claude read the charges against them.
On the armed robbery charge, it is alleged that on September 12, at Deadman's Reef, the accused men, being concerned together, while armed with a handgun, rifle, and a shotgun robbed Barry and Sheena Johnson of a set of keys and a silver GMC Truck, valued at $8,006.
It is also alleged that the men killed the couple on the same day.
They were not required to enter a plea to the charges and were denied bail.
The Johnsons were discovered dead at their residence in Deadman's Reef on the morning of September 13.
Mr Johnson was an employee at the Freeport Container Port, and Mrs Johnson was a teacher at Eight Mile Rock High School. Their deaths were the island's 11th and 12th murders for the year.
Prosecutor Supt Wendell Deveaux told the court that the Crown intends to proceed with the matter by way of a voluntary bill of indictment on December 3.
Attorney Osman Johnson represents Alcime. The other three men were not represented by counsel.
Additionally, Alcime and Virgill Hall were charged with possession of an unlicensed firearm and possession of illegal ammunition.
It is alleged that on September 19 at Eight Mile Rock, the accused men were found in possession of four shotgun shells, and an unlicensed chrome Marine Winchester shotgun, without having a firearm certificate from the Licensing Authority.
Both pleaded not guilty to the charges and were denied bail. The matters were adjourned to January 20, 2016.
Mr Johnson informed the court that he intends to apply to the Supreme Court for bail for his client, Alcime.