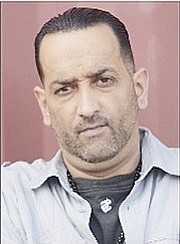 By Naughty
naughty@tribunemedia.net
WHAT a week that was in the NFL! It definitely turned out differently from what we all expected ... totally!
I know I've gone 6-10 in a week before, but it was most certainly in the old millennium. Be that as it may, there's still plenty of football left and ample opportunities to rebound.
Let's face it I can't do much worse, things can only get better starting this week. Oh, and for the record, I did nail the Raiders pick over the Ravens, so quiet please 'Bradyite' and 'Fishy'.
Kudos to Sannie for going 8-8 and winning the week.
• Here's who I like this week, short and sweet. I will pontificate more when I'm back well over .500 (you know that's my slump-breaking mojo).
Redskins v Giants
Right now the Redskins are playing better football. RB Matt Jones is running the football at an elite level on limited carries; look for him to soon be the lead back in Washington.
The Giants are due for a win, it's a division game with a nasty rivalry attached, but my gut says, too many injuries on defence for the Giants.
Redskins 24 Giants 20
Bengals v
Ravens
A tough AFC North division game in this one, and despite the hot start by the Bengals it could be a trap!
The Ravens should have won last week and let it slip away, they are at home, but they look snake bitten.
The Bengals were impressive in a home win against the Chargers last week, so riding that momentum I like the Bengals on the road.
Bengals 27 Ravens 24

Raiders v Browns
Really? No, this is gonna be a stinker!
Despite the Raiders' impressive come from behind home win last week, it doesn't continue this week.
The Raiders truly play like a West Coast team in a 1pm East Coast game traditionally, and this Sunday is no different. Three hours behind and jet lagged!
Browns 20 Raiders 13
Saints v Panthers
QB Drew Brees is banged up, the Saints are 0-2 and on the road vs a tough NFC West rival, that's all I need to know.
Also despite my colleagues on The Press Box ( Sundays 10am to 2pm on KISS FM 96) chuckles and claims of me being loony for picking the Panthers at home last week vs the Texans, 'Cam' Newton came through in the clutch, as he does again this week.
Panthers 24 Saints 20
Falcons v Cowboys
Injuries on both sides in this match up of 2-0 teams.
Julio Jones will get his share of the pie, but the Dallas defence shuts down the rest of the Falcons offence.
Cowboys at home behind the suddenly dominant defence and the best offensive line on the planet.
Cowboys 24 Falcons 23
Buccaneers v Texans
Texans at home behind a fired up JJ Watt and an inspired Houston Defence.
WR DeAndre Hopkins is out but RB Arien Foster returns to batter a weak Bucs run defence. Fantasy owners it may be time to unleash the beast.
Texans 27 Bucs 17
Colts v Titans
Finally the Colts wake up and win one on the road against a feisty Titans squad at home.
More growing pains for Mariota.
Colts 24 Titans 10
Jaguars v Patriots
'Cheatriots' who don't have to at home in this one.
Patriots 38 Jaguars 24
Chargers v Vikings
This one could be a shoot out or a blow out. Either way I like the Vikings at home behind AP!
Vikings 23 Chargers 20
Eagles v Jets
DeMarco Murray sure misses Dallas: he told us so last week after the Cowboys shellacked the Eagles.
This week Murray has an injured hamstring and there are rumblings already in Philadelphia regarding Chip Kelly etc.
Meanwhile New Jets Head Coach Todd Bowles has the defence running on all cylinders while QB Ryan Fitzpatrick, comfortable in his role as the 'starter' in NY, has the offence operating efficiently and effectively, workhorse RB Chris Ivory is a big factor also, along with WR's Brandon Marshall and Eric Decker.
Jets at home.
Jets 24 Eagles 13
Steelers v Rams
Which Steelers team is going to show up? Same said of the Rams!
RB LeVeon Bell returns to the Steelers after suspension, so Steelers on the road.
Steelers 24 Rams 20
49ers v Cardinals
Big NFC West match up here. Lots of Fantasy Football ramifications in this one.
Cards very tough to beat at home, so I'm going with them.
Cards 20 Niners 17 (OT)
Bills v Dolphins
Two 1-1 teams searching for their true identities.
Nice AFC East slugfest in this one, and since I loath the Dolphins, let's go Tyrod Taylor and the Bills.
Bills 23 Dolphins 20

Bears v Seahawks
The Bears are injury riddled, the 'Hawks get their heart and soul Cam Chancellor back, the 'LOD' has returned.
'Hawks romp at home.
Seahawks 31 Bears 17
Broncos v Lions
'Old Man river' Peyton Manning carves up the listless Lions despite Calvin Johnson and Golden Tate doing their part.
Broncos 27 Lions 20
Chiefs v Packers
I'm still seething at Andy Reid for starting off the NFL 'Weekend from Hell' with his Thursday Night Football idiocy. So for that - and the obvious Arron Rodgers at QB for Green Bay - Packers at home.
Packers 31 Chiefs 23

• Naughty presents 'Mischief and Mayhem in da AM' from 6am to 10am, Monday to Friday and 'The Press Box' sports talk show on Sunday from 10am to 1pm, on KISS FM 96.1. Comments and questions to naughty@tribunemedia.net