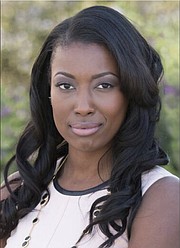 AISHA Bowe, the youngest person with Bahamian heritage to work for NASA, is among five contenders for an award by a major American online media outlet.
Ms Bowe, who has been making news as the CEO and co-founder of STEMBoard and its summer youth camp, Hack.IT Bahamas, expressed her delight in being nominated for The Root's People's Choice award.
"I'm humbled to be among the five finalists for the People's Choice Award," she said. "It's wonderful that my own roots from the Bahamas were highlighted in their synopsis on the nominees, and that they were kind enough to mention STEMBoard and our mission to empower young Bahamians to tackle everyday problems in that nation through science, technology, engineering and mathematics.
"Even though I am the one who was nominated, the STEMBoard team, the campers and the generous sponsors who made it possible to pursue this venture are the real stars shining a light on this recognition."
The Root has been rated among the top websites for Black news in the past, holding on to the top position for four consecutive months. The winner of the People's Choice Award, powered by Infiniti, will be determined by votes. Those wishing to support Ms Bowe may do so at http://bit.ly/1KvuT6m
"Aisha Bowe knows that the sky is not the limit," theroot.com said. "A former NASA engineer, she worked for the space organisation improving air traffic management. But Ms Bowe didn't always know that she would end up here. It wasn't until her father recommended that she take a mathematics class in college that she realised she had a knack for solving problems.
"A few advanced calculus classes later, she had fostered a love for engineering. Fast forward to 2013, Ms Bowe co-founded STEMBoard, an engineering solutions company that hosts free camps for underserved youth in hopes of closing the achievement gap in science, technology, engineering and math fields.
"In March, the organisation won the Emerging Star award from the US Women's Chamber of Commerce. In July, the company travelled to The Bahamas, for a hackathon titled Hack.IT Bahamas, a free weeklong camp to solve problems that affect everyday Bahamian life."