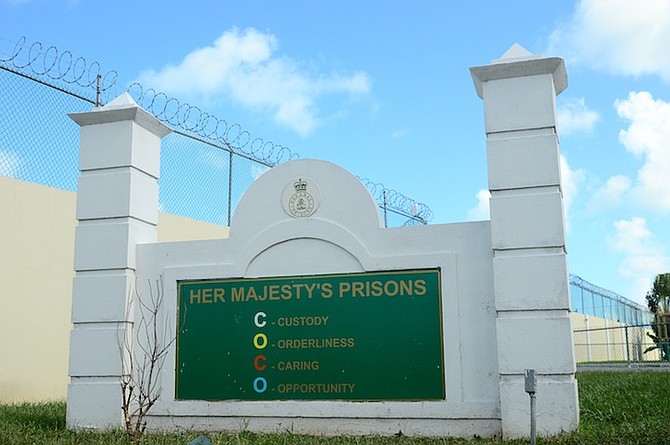 By NICO SCAVELLA
Tribune Staff Reporter
nscavella@tribunemedia.net
AN inmate was found dead in his cell at the Bahamas Department of Correctional Services on Saturday, however police yesterday declined to say whether they suspect foul play.
Chief Superintendent Paul Rolle, officer-in-charge of the Central Detective Unit, said he would not comment on the circumstances surrounding the death of remanded inmate Christopher Andrew Kemp, who was found unresponsive in his cell around midday on Saturday.
That matter, Chief Supt Rolle said, now rests "in the hands of the coroner".
According to a statement released from Patrick Wright, commissioner of correctional services, on Saturday, officials do not know the cause of Kemp's death.
"The institution's medical officer was contacted and on arrival conducted an examination," Mr Wright's statement said. "At the conclusion of the examination, the inmate was pronounced dead. The cause of death is unknown.
"Her Majesty's coroner and the Royal Bahamas Police Force were contacted. The matter is under investigation and no further information is available at this time. All other inmates at The Bahamas Department of Correctional Services remain in safe custody."
In July, an inmate died in hospital after suffering an injury sustained during a fight with another inmate in the department's Medium Security Housing Unit.
The Tribune understands the victim from the incident in July was Samuel Pierre and that he was stabbed during the argument.
As a result of the argument, the deceased was taken to the facility's Medical Department, and was seen by the medical officer. The medical officer subsequently referred the inmate to the Princess Margaret Hospital for "further management and treatment." However, the inmate died on July 10.
In April, accused murderer Jamal Gibson, aka "Eggy", was found dead in his cell at the prison. According to a source, the 25-year-old was reportedly discovered hanging from the bars of his cell, with a bed sheet wrapped around his neck.
Last October, convicted murderer Forrester Bowe was found dead in his prison cell.
An earlier statement from the department said the 37-year-old, who took part in a notorious escape in 2006 that resulted in the death of a police officer, was "found unresponsive to roll call."
Police sources close to the matter have previously said no foul play was suspected in Bowe's death, adding that preliminary investigations revealed that Bowe was suspected to have died from a "heart related matter."