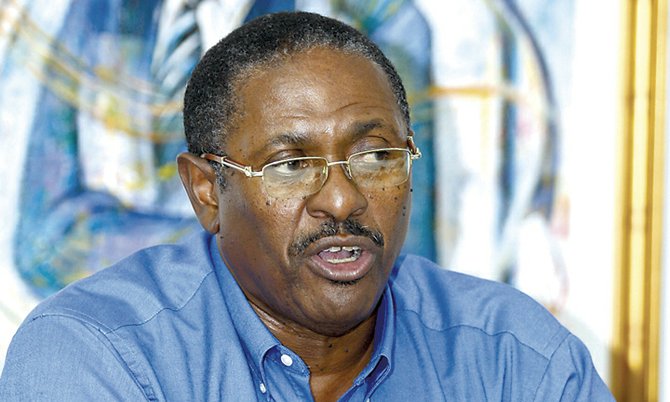 By RASHAD ROLLE
Tribune Staff Reporter
rrolle@tribunemedia.net
PROGRESSIVE Liberal Party Chairman Bradley Roberts criticised former PLP MP Philip Galanis yesterday for criticizing the Christie administration, suggesting that he should "be quiet" if he has "nothing with sense to say."
Mr Roberts also questioned the former senator's motives for his critiques of Prime Minister Perry Christie's tenure as this nation's leader, adding that if Mr Galanis truly supported Deputy Prime Minister Philip "Brave" Davis as a leadership contender he was not helping him.

Mr Galanis has emerged as a vocal critic of Mr Christie and the PLP in general in recent weeks. Last Thursday, while on the STAR 106.5FM radio show "Jeffrey" with host Jeff Lloyd, he said that the country has regressed under Mr Christie's leadership and that the party made "pie in the sky" promises during the last general election.
Earlier this month, Mr Galanis revealed that he supports Mr Davis to be the new leader of the party.
Regarding this, Mr Roberts called on Mr Galanis to "reveal his true motives".
"These comments by Mr Galanis are confusing at best as it would be foolish for him to claim support for (Mr) Davis while at the same time attacking the work of the very administration that the deputy prime minister is a part of," he said.
"Galanis is fully aware that Davis has been the deputy leader since 2009 and deputy prime minister since May 2012 and (I) doubt seriously that he can get Davis to agree with his personal, baseless attack on the party and its MPs. I ask Mr Galanis to reveal his true motives for such attacks as he is providing no aid to Davis who he claims to support with such juvenile comments."
Regarding concerns that the PLP lacks a strong record in office, Mr Roberts said the government's successes are there "for a blind man to see and will be boldly and proudly highlighted at the party's November convention."
Last week Mr Galanis said some PLP Cabinet ministers and MPs are "miserable and lousy" and not pulling their weight.
While he did not specify which MPs he was referring to, he spoke positively about Fox Hill MP Fred Mitchell, Marathon MP Jerome Fitzgerald, West Grand Bahama and Bimini MP Obie Wilchcombe, Attorney General Allyson Maynard Gibson, Golden Isles MP Michael Halkitis, Tall Pines MP Leslie Miller, Yamacraw MP Melanie Griffin and Pinewood MP Khaalis Rolle.
However, he said "no comment" when asked about MICAL MP V Alfred Gray, Bain Town MP Dr Bernard Nottage and Golden Gates MP Shane Gibson. He declined to comment further before the show's host could probe him any further.
To this, Mr Roberts said: "I am certain the MPs castigated will respond to Galanis at the appropriate time."
He added: "The PLP is the oldest political party in the Bahamas and encourages its supporters to air their concerns within the political structures of the organization. But I will add this much: When you have nothing with sense to say it's best to be quiet. All elected offices within the party can be contested by any member in good standing at the party's convention, to be held the first week of November at the Melià Hotel Cable Beach. It is most unwise for any organisation to attempt to wash its linen in public."