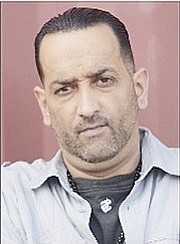 By Inigo 'Naughty' Zenicazelaya
AS I sit here waiting, in what is fast becoming the last bastion for free speech among adult males, the barbershop, some interesting subjects arise.
Here's what sparked the best debates and responses, in my opinion, during my two hours (which seemed like minutes) waiting to get a 'fade'.
Agreed: 'Narcos' is the best new series going, and yes I 'binged' watched it, in its entirety on 'Netflix', and I won't talk about anything beyond episode four in any future visit to the barbershop.

Marciano v Mayweather: Who was the better?
I walked in and met this verbal joust going on between patrons and one of the barbers (who shall remain nameless to protect his identity).

Who was the best of these two undefeated pugilistic legends, Rocky Marciano or Floyd Mayweather?
I was quite enjoying the back and forth like a Serena Williams tennis match, until I was dragged into the fray.
"What do you think Naughty, who's the best in your opinion?"
At this moment I knew I had to break the stalemate, my expertise had been summoned.
Here was my answer. The difference in 'boxing eras' and how much the sport has changed over the years, both good and bad, is like night and day. From the size of fighters winnings, pay per view percentages, endorsements, level of competition to training and conditioning, diet and sparring, we can determine the better of the two.
Simply look at the common denominator between the two, their 49-0 records, how they were achieved and against whom.
As you can see it's still not clear cut - they have identical 49-0 career records. Here's where it gets interesting.
Marciano boasted the higher knockout percentage, 88, to Mayweather's 53. Marciano 43 knockouts to Mayweather's 26.
Mayweather won titles in five different weight classes, Marciano only in one.
Mayweather had 26 title fights and defences while Marciano only a pedestrian seven.
The last fighter to come this close to breaking Marciano's record was the great former heavyweight champion, Larry Holmes. Holmes was 48-0 in the division in 1985 going into his 49th fight against light heavyweight champion, Michael Spinks.
Spinks won in an upset, joining his brother Leon to become the only brothers to win Olympic medals and the world heavyweight boxing title.

I wonder if Holmes' infamous pre-fight quote "Rocky Marciano couldn't carry my jock" tilted the scales in Spinks favour. We all know Karma has her ways.
So taking all of this into consideration and accounting for the two different 'eras' in boxing, both handled stiff talented competition, Marciano had more knockouts, Mayweather won more titles and had more title defences.
Clearly Floyd was more active in his career than Marciano, as this era dictates compared to that of Marciano. In Marciano's heyday, he could defend his title then wait six months to a year or more to defend.
Sometimes Mayweather fights two to three times in a year. He's fought and defended his title twice for the year already, which is a sterling example of the hectic, revenue-driven pace the sport of boxing is on seeking to get back its market share that has been snatched away by the MMA.
Throw in the out-of-ring distractions that this day and age offers compared to the '50s and '60s, I mean Marciano never had 'baby mamma' drama or to deal with celebrity friends named 'Fifty Cents' with robust 'man crushes' like Mayweather has had to do.
Not to mention the on-again, off-again relationship with his father Floyd Mayweather Sr with his uncle Rodger trying to keep it all held together.
There is infinitely more 'pressure' in today's fight game, not to mention the crazy promotional and marketing schedules that accompany each big fight.
Nor did Marciano ever have the entire Filipino community of Sacred Heart Parish and the Bahamas silent for days after defeating beloved hero and champion Manny Pacquioa (as I predicted right here in this very column).
Factoring everything into account, let's go to the scorecards. We have a split decision ... and the winner by split decision ... Floyd 'Money' Mayweather.
Mayweather, Mayweather!
Until next week may you stay off the IR and may your back-up quarterback get your team a win.
• Naughty presents 'Mischief and Mayhem in da AM' from 6am to 10am, Monday to Friday and 'The Press Box' sports talk show on Sunday from 10am to 1pm, on KISS FM 96.1. Comments and questions to naughty@tribunemedia.net