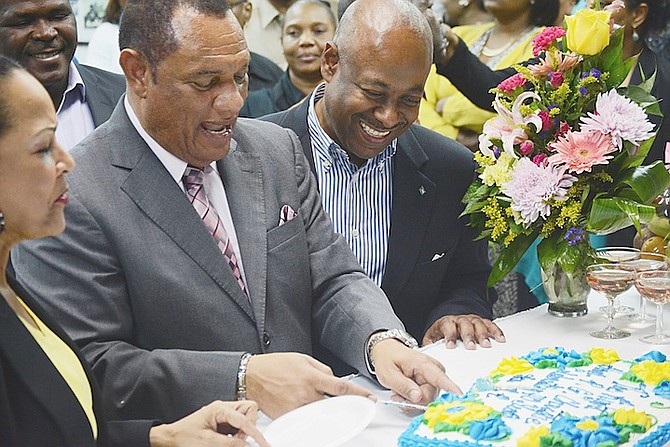 By RICARDO WELLS
Tribune Staff Reporter
rwells@tribunemedia.net
TOURISM Minister Obie Wilchcombe yesterday insisted that there is no chance that he would contest Prime Minister Perry Christie for the PLP leadership at the party's November convention.
When asked about this plans for the convention, the West End and Bimini MP emphatically stated: "I'm with Christie."
Despite criticism of the government's performance from members of the PLP and those outside the party, Mr Wilchcombe said he is confident that Mr Christie can lead both the PLP and the Bahamas beyond the 2017 general election.
He said: "…. A leader is only as strong as his team. All members of (the) team must play at the highest level in order to achieve."
"Victory is dependent on not only on an election campaign, but equally important is the work we do today."
According to Mr Wilchcombe, he is committed to Mr Christie, saying he would work assiduously with the PLP leader to ensure that the party "realises more opportunities for Bahamians."
This includes "higher levels of education, healthcare from birth to the grave and a more peaceful and gentle Bahamas," Mr Wilchcombe said.
Mr Wilchcombe had previously revealed his ambitions to lead the PLP but said that depended on Mr Christie's future plans.
Earlier this month Mr Christie announced that he would once again seek the PLP's leadership post, ending speculation surrounding his political future.
Speaking at PLP branch meeting held in Nicholl's Town, Mr Christie declared: "We have no time to be distracted by foolishness, the government of this country is too important to allow us to be distracted by foolishness."
"We are going to make this country work. I will make it work for you and you are going to help us make it work for you."
There have been some calls by some PLP members for Mr Christie to retire ahead of the 2017 general election and allow the party to select a new leader moving forward.
In particular, former PLP Englerston MP Philip Galanis has in recent weeks openly criticised Mr Christie's leadership style, recommending that the party allow Deputy Prime Minister Philip Davis an opportunity to lead the party.
Last Thursday, he stated that the country had regressed under the present Christie administration, adding that the regime made "pie in the sky" promises before the last general election.
He went on to suggest that Mr Christie had failed to properly manage his administration, alleging that some PLP Cabinet ministers and MPs are "miserable and lousy" and not pulling their weight.
The PLP's convention is scheduled for November 1-7 at the Melià Nassau Beach Resort.