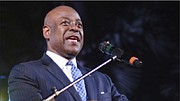 By RICARDO WELLS
Tribune News Reporters
rwells@tribunemedia.net
DEMOCRATIC National Alliance Leader Branville McCartney yesterday alleged that Tourism Minister Obie Wilchcombe's refusal to discuss the nation's crime woes with representatives of a leading cruise line could soon result in a security warning to cruise ship passengers.
Mr McCartney accused the West End and Bimini MP of ignoring emails from Carnival's Vice President of Commercial Port Operations Carlos Torres de Navarra on three separate occasions between August 31 and September 26.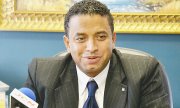 Mr McCartney showed copies of these emails to the media yesterday, which expressed the cruise official's interest in talking to Mr Wilchcombe about the country's crime issues.
However, when contacted for comment, Mr de Navarra told The Tribune that while there is some concern with the number of crime alerts being posted by foreign governments to their citizens living in or visiting the Bahamas, Carnival has no plans of issuing an alert of their own.
Mr de Navarra confirmed to The Tribune that he had sent three separate emails to Mr Wilchcombe, none of which received a response.
When contacted by The Tribune for comment, Mr Wilchcombe said that he did not receive any of the emails, but did have a phone conversation with Mr de Navarra yesterday in an effort to clarify the situation.
He said that at no time during that conversation did Mr de Navarra indicate that a warning would be issued.
At a press conference on Tuesday, Mr McCartney claimed that Mr Wilchcombe's actions will force the cruise line to soon issue a security warning to its passengers, a warning he said would lead to a weakened tourism product.
"We are told that the port where the cruise ships come in has been of grave concern to many of the cruise ships. They are fearful, they are concerned for their passengers coming to this destination," Mr McCartney said.
"We are reliably informed that Carnival Cruise Lines intends to issue a separate security advisory this week. The last time that was done was in 2013 and when that was done hardly any tourists left the ships and the country suffered.
"We believe that if Carnival takes this course of action, other cruise lines will follow suit. We are asking the minister of tourism to respond to Carnival. Carnival is one of the largest cruise lines that come to our ports," the former Bamboo Town MP added. "Their concern is about crime and the fear of crime for their passengers. They have legitimate concerns and I find it strange that the minister has not responded."
However, Mr Wilchcombe condemned Mr McCartney's statements, suggesting that the third party leader was attempting to draw the cruise line and its passengers into the nation's political arena as a talking point.
"It is easy to meet with me," Mr Wilchcombe said. "I don't understand why (Mr McCartney) is doing this. They (cruise officials) are always in contact with me as I try to do all I can to ensure that our guests and those that bring them here are safe and secured while here."
He added: "I never received those emails. I don't know where (Mr McCartney) would have gotten them from, but I just got off the phone with Carnival, they didn't give any indication that a security warning was on its way."
"There are concerns, but they are things we are working on and communicating about. This is something that I am surprised by because I don't know where this is coming from," Mr Wilchcombe said.
When asked by The Tribune of the extent of Carnival's concern with the nation's crime issue, Mr de Navarra said: "There will always be a concern. There were a couple of warnings about issues in the Bahamas, but we try to communicate with governments before we make decisions."
"We aren't in the business of politics, we are in the business of building a strong relationship with the people we serve, the country we visit and to extension the people and governments of those countries," the cruise official said.
Numerous crime advisories have been released by international governments over the past few years.
Last week, the US Department of State warned its citizens travelling to the Bahamas of an increase in armed robberies in New Providence. Last month, the British and Canadian governments also noted issues with crime in the Bahamas.
On their respective government websites, both countries warned travellers of increased crime in this country.