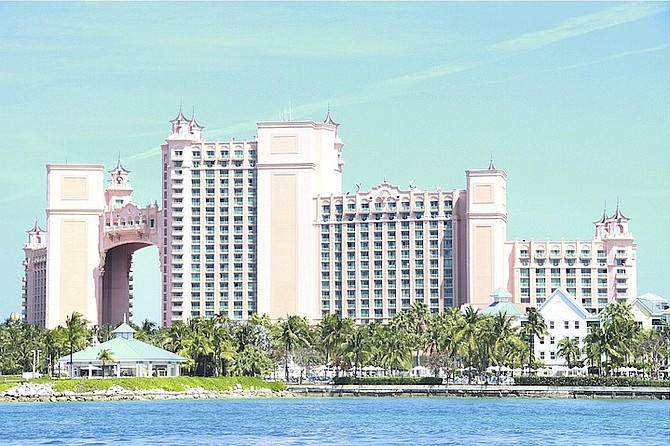 By NICO SCAVELLA
Tribune Staff Reporter
nscavella@tribunemedia.net
A GROUP of disgruntled Paradise Island-based taxi drivers have expressed concern over some of the Atlantis resort's employees allegedly facilitating "unfair" competition in the ground transportation industry.
In a letter dated March 16 penned to Stuart Bowe, Atlantis senior VP and general manager of resort operations, the Royal Towers Taxi Drivers Grievance Committee (RTDG) claimed that some staff and supervisors stationed at the resort's Royal Towers entrance are allegedly complicit in essentially marginalising taxi drivers.
This, the RTDG claimed, is being done by the staff and supervisors allegedly allowing SUV, town car and limousine drivers to "stand at the door" of the entrance and "solicit" guests to their vehicles, notwithstanding taxi cab drivers having to be "placed in a holding area" and allowed to move only "when called for a fare."
One such employee, the group claimed, has his "friends that are moving all night transporting guests" while taxi drivers wait at their designated station.
The RTDG said taxi drivers are losing revenue as a result.

When contacted yesterday, Bahamas Taxi Cab Union President Philip Watkins said the matter is nothing new, as he claimed the union has had several meetings with Department of Road Traffic officials and Atlantis personnel to deal with the problem. Nonetheless, he said, he would again notify Road Traffic Department officials of the matter.
Attempts to reach Mr Bowe were unsuccessful up to press time.
According to the letter, taxi cab drivers are placed in a "holding area" where they are "monitored" and can only move "when called up for a fare."
However, the letter said town car, SUV and limousine drivers are allowed to stand at the main entrance and are also permitted to approach and solicit the guests to their respective vehicles, which the group claimed are "always parked on the front entrance and/or the general area near the flying horses."
The group further alleged that a particular employee, every night he is scheduled to work, has "friends that are moving all night transporting guests" while cab drivers are waiting in the holding area.
The letter claimed that a manager at Royal Towers has had to leave his office on a "number of occasions" to inform the town car, SUV and limousine drivers "not to approach the guests and to let the staff do their jobs."
However, the letter said that as soon as the manager returns to his office, the town car, SUV and limousine drivers "are back on the door soliciting."
"(The manager) is not getting the cooperation and support from the staff," the letter said, addressing Mr Bowe. "It is now vividly clear that some staff members are facilitating and/or aiding what the town car, SUV and limousine drivers are doing – operating outside of the law soliciting and the bombardment of your guests.
"It is our hope that you meet with us so that we can solve this matter peacefully, moving forward."
When contacted yesterday, Mr Watkins told The Tribune that taxi drivers are "at their wits end" over the matter. "They're trying their best to provide a service without interruption and it appears as though no one is paying the taxi drivers any mind," he said. "We've had several meetings with Atlantis personnel to deal with those drivers who refuse to go in the lot and who sometimes just are a nuisance, fooling with the people. When (guests) say they want a taxi they're intercepting them, and between them, the bellmen and the doormen, are just really taking fares that really ought to be going to the taxi drivers."
Mr Watkins added that he would be speaking to officials at the Department of Road Traffic to "see how best we can resolve that situation."
He added: "But this is nothing new with drivers at Royal Towers, they've got drivers at the Reef sometimes, they have drivers at the Cove, they have drivers at Coral Towers, and the same SUV, town car, are making a nuisance at the airport taking taxi drivers' fares."