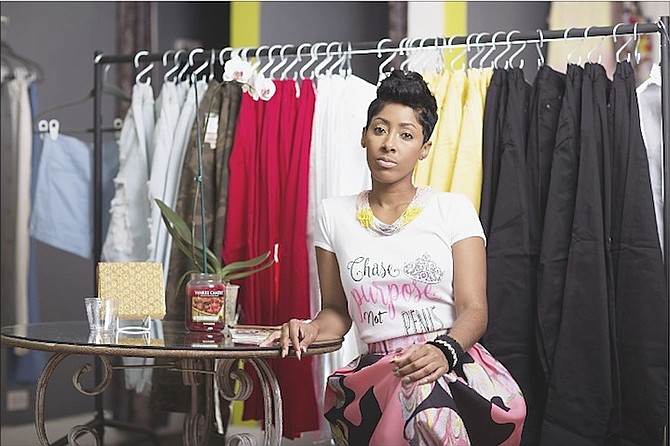 By JEFFARAH GIBSON
Tribune Features Writer
jgibson@tribunemedia.net
LIVING according to her motto – "Chase Purpose, Not Penis" – a slogan that is now printed on a new line of T-shirts – was not easy for Simone Gibson.
Like many women, Simone spent a great deal of time pursuing relationships, waiting on Mr Right and on a marriage proposal, all the while forfeiting "the best life God intended us to live."
"I've found myself in the past putting it all on hold to pursue a relationship. I've gotten so caught up that my only focus was the relationship, and as silly as it sounds, it's so easy to lose track of your own dreams and aspirations when you don't understand your purpose," she told Tribune Woman.
After being left disappointed, Simone said she realised that the only thing that could give her the true fulfilment she desired was a personal relationship with God and discovering her purpose in this life.
So far that journey has connected Simone, who is also the founder of the Pure Purpose Network and owner of Conviction Boutique, with many other women whom she has sought to empower and inspire. She said her new T-shirt line does not advocate staying single, but is an extension of her efforts to help spark a desire in women to find and pursue their purpose.
She told Tribune Woman about the spark that started "Chase Purpose, Not Penis":
Q: It seems "Chase Purpose, Not Penis" is much more than a tag line on a T-shirt. What was the inspiration behind it all?
A: "I've seen so many women place their purpose on hold to pursue relationships. Don't get me wrong, I love to see healthy relationships between a man and a woman; this shirt wasn't designed to encourage women to be single forever. I really wanted to put the message out there to women that God created them for so much more than just becoming someone's wife. We've been sold that fairy tale for too long and, not to my surprise, many of us bought it; putting our entire existence on the (back burner) to chase after a relationship. Single women should be chasing after life and creating amazing memories while fulfilling their God given purpose. Sitting down waiting on a marriage proposal, chasing hard after a man, or putting fulfilling your purpose on hold for a relationship is not living the best life God intended us to live."
Q: Why do you think so many women get wrapped up in chasing love or a relationship rather than pursuing their purpose?
A: "We were wired from little girls to believe that our main goal should be to get married. We read fairy tales that ended with a prince sweeping the heroine off her feet and whisking her away to be married. My friends and I play-acted getting married. Back then we bought the notion that we needed a man to be complete. So getting wrapped up in chasing love becomes easy when that idea has been fed to you the majority of your life. Like my pastor, Matthew Sweeting, says: 'In this thing called life you have to unlearn some bad habits or incorrect ideals you have been taught.' We weren't taught as little girls about purpose and the importance of pursuing it, so that wasn't something we began to pursue as adults. Rather, we pursued the fairy tales we watched over and over for years."
Q: Do you think that women sometimes care more about men than their purpose?
A: "I wouldn't say that women don't care to know what their purpose is, it simply boils down to your experiences and where you are in life. It took me until I was in my late 20s to fully grasp my purpose and the importance of it. After a few bad mistakes, some failed relationships, I began to desire more and became connected with my creator. How can I truly understand what I was created to do if I'm out of touch with my creator? Everything in life is a process; nothing great just happens over night. I would encourage women who are unsure about their purpose to develop intimacy with God, align themselves with others who have discovered theirs, read more, knowledge is power, and purchase my tee! But seriously, do purchase the tee and connect with my group. There are lots of women who are walking in purpose who can help."
Q: There have been numerous events and initiatives geared towards helping women find their purpose. What do you define as purpose?
A: "Purpose is defined for me as why we're here at all; the very reason we exist. I believe that we were all created for a reason and that we all have significance in the world. I genuinely feel that we are all blessed with unique gifts. The expression of our gifts contributes to a cause greater than ourselves. It's bigger than just doing something meaningful, that's a small fraction of it. Life is the expression of the reason for being. The reason represents the brilliance that is within all things. For example, it is the power within a pumpkin seed. When planted in the garden, it grows step by step to the fulfilment of its reason for being – a pumpkin."
Q: For the women who are pursuing their purpose and are in love relationships, how can they strike a balance?
A: "Outside of seeing healthy, happy relationships, seeing couples who both are pursuing their purpose together makes me do my happy dance. I feel that relationships flow better when each person is happy on their own, when they've discovered who they are as individuals and when they both are walking in purpose, even if it's not the exact same thing. I feel like the balance is easily achieved because they both understand the value in what they're doing as individuals and as a unit, and when their core values align. The balance comes when you're both helping one another grow and the focus isn't just on your purpose and overlooking his or solely on his purpose and forgetting yours. A balanced, purpose-filled relationship is a healthy, growing one that's constantly moving and changing."
• For more information visit convictionboutique.bigcartel.com