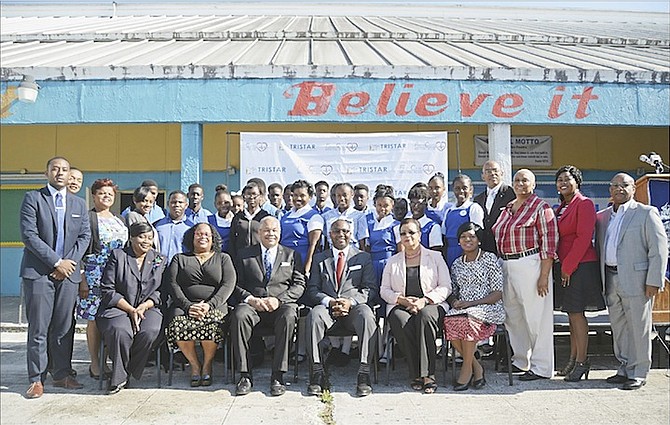 By NICO SCAVELLA
Tribune Staff Reporter
nscavella@tribunemedia.net
COLLEGE of the Bahamas officials yesterday signed a memorandum of understanding with Tristar Insurance Agents & Brokers Ltd for the company to become an official donor of COB's President's Scholar's Programme.
The MOU signing took place at the Government High School (GHS), where Tristar Insurance has pledged to provide targeted corporate mentorship and financial support for the 2015/2016 school year, via its Tristar Education Optimisation Programme (TEOP). Thirty students in grades 11 and 12 at GHS were inducted into the TEOP last year.
A $50,000 commitment by Tristar Insurance, the TEOP will ultimately result in one GHS student and TEOP participant receiving a four-year scholarship to attend COB and entry into COB's President's Scholar's Programme (PSP), where he/she will have the opportunity to learn directly from COB President Dr Rodney Smith, the mentor for the presidential scholar.
Tristar Insurance has also pledged to provide summer job opportunities for the selected student while he/she is attending COB, and upon graduation from COB, the student is guaranteed a job with Tristar Insurance in its broker development programme.
"You have often heard that it's been said that the youth are the future of our nation; we at Tristar have decided to be proactive in making a positive impact on our youth to deliberately improve the quality of that future," said Harold Antor, president and CEO of Tristar Insurance Brokers & Agents Ltd.

Dr Smith said of the signing and Tristar Insurance's commitment to supporting education: "Tristar has an interest in developing Bahamian youth, through education and character building, which marries well with the college's mission to support and drive national development through teaching, research and innovation, and service to the community. Therefore, we are pleased to partner with Tristar at the Government High School for this worthy undertaking."