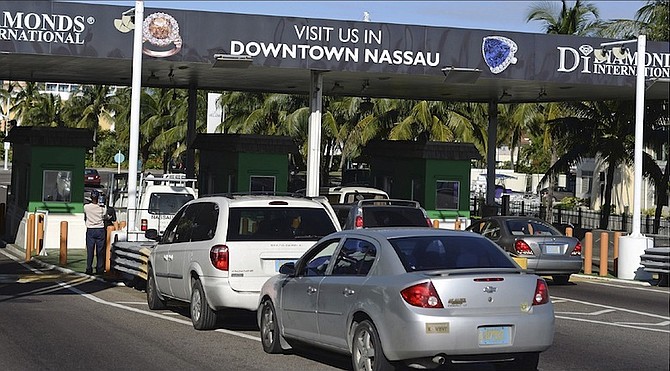 LABOUR Minister Shane Gibson recently reminded the public that toll rates for the Sidney Poitier Bridge to Paradise Island will increase on May 1.
Earlier this year, the Bridge Authority announced that the bridge toll for private vehicles was set to double, from $1 to $2.
Speaking recently in the House of Assembly, Mr Gibson, who has responsibility for the Bridge Authority, revealed the proposed toll increases for other classes of vehicles.
According to Mr Gibson, taxi fares for passengers heading over the bridge will go from $1 to $3; regular sized commercial vehicles under seven feet tall will go from $1 to $2 and large commercial vehicles over seven feet tall will increase from $2 to $4.
Commercial vehicles with three axles or more will go from $3 to a price determined by weight. Employees of businesses located on Paradise Island, up to 26 crossings per month ($0.50 of which is payable by employers), will see their toll raised from $0.75 to $1.50.
The resident pass will be raised from $250 to $500 per year while motorcycles and bicycles will be raised from $1 to $2.
Pedestrians will continue not to be charged for crossing the bridge.
Mr Gibson recently said: "During the past several months, the Bridge Authority has embarked on a number of projects and initiatives, including the Paradise Island (East) Bridge Repair and Strengthening Scheme. The Bridge Authority completed the tendering process for rehabilitative works on the Paradise Island East Bridge and selected Island Site Development (ISD) to carry out work, which began on February 29, 2016.
"The Bridge Authority secured funding through Central Bank, for a share bond offering, in the amount of $6m to carry out the rehabilitative repairs on the Paradise Island East Bridge.
"Market research indicated that the Bridge Authority's current toll fare was extremely low when compared to toll fare of bridges around the world. In addition, the Bridge Authority is seeking to design and implement a weight enforcement system on both bridges."
He said the Bridge Authority started collecting value added tax on smart cards and transponders in January 2015 but is currently absorbing VAT on the cash collected in the lanes.
The toll increases were originally supposed to take effect on March 1. This would mark the first toll increase in 17 years for the bridge.