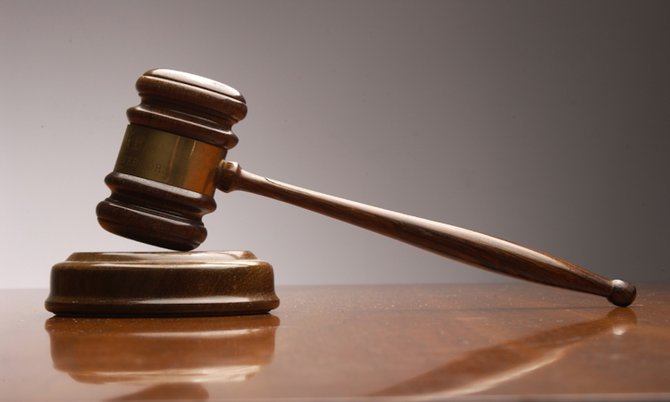 By LAMECH JOHNSON
Tribune Staff Reporter
ljohnson@tribunemedia.net
A JUDGE ruled yesterday that he would not convict two men of murder, aggravated or not, on a majority verdict decided by a jury in a recent murder trial.
Rashad Sullivan and Patrickedo Rose, both 25, appeared before Justice Bernard Turner to learn whether the judge accepted the 10-2 guilty verdict for murder a jury had arrived at during their six-hour deliberations of the November 2012 murder of Dario "China" Knowles, 25, at Lincoln Boulevard.
A legal dispute had arisen on whether the 2011 amendment to the Penal Code allowed for the court to accept majority verdicts in murder cases where the question of the discretionary death penalty does not arise if a conviction is reached.
The amendment, which followed the Privy Council's decision in the Maxo Tido appeal, notes that only certain types of aggravated murder are currently punishable by death. These include murder of a law enforcement officer; murder of a judicial officer, including judges, registrars and prosecutors; murder of a witness or juror; murder of more than one person; murder committed by a defendant who has a prior murder conviction; and murder in exchange for value.
The amendment further provides that any murder committed in the course of/or in furtherance of a robbery, rape, kidnapping, terrorist act, or any other felony is punishable by death, with no explicit requirement of intent to cause death.
Noting that the reasons for his decision would be provided in a detailed written ruling to follow, Justice Turner said yesterday he would not accept the 10-2 guilty verdict the jury arrived at last December.
As the jury had also returned a 10-2 guilty verdict for conspiracy to commit murder, the judge formally convicted the pair of that charge and adjourned sentencing to May 19 at the request of lawyers for the accused who sought the production of social inquiry reports.
Sullivan and Rose, with 29-year-old Eddie Artus of Sugar Hill Road, were alleged to have conspired to commit murder between November 1 and November 25, 2012.
Sullivan and Rose were further accused of the actual murder.
Knowles, the son of accused murderer and drug trafficker Dion "Emperor" Knowles, was shot and killed on Lincoln Boulevard off Cordeaux Avenue. He was found lying in the street, shortly after several gunshots were heard in the area. The elder Knowles was killed in 2011.
Artus was acquitted on direction of the judge at the close of the prosecution's case. The two other men claimed they were induced into making statements to police through physical mistreatment and threats. They maintained their innocence.
Investigators had denied the abuse allegations when cross-examined after testifying that Sullivan allegedly admitted he was present when his co-accused committed the crime. Rose also allegedly assigned the blame of the killing to Sullivan.
Rose, was represented by Glendon Rolle, while Sullivan was represented by Lennox Coleby. Darell Taylor and Aaron Johnson prosecuted the case.