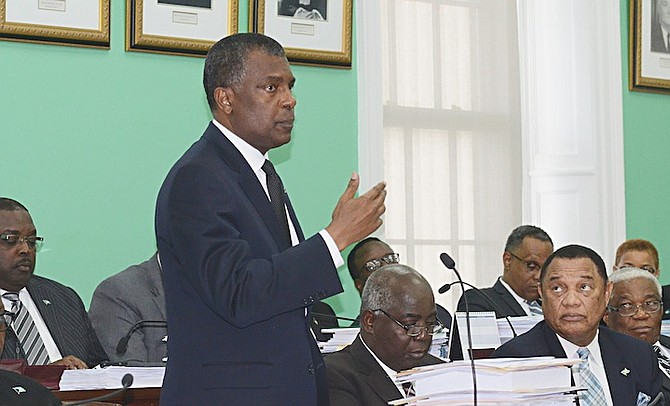 By AVA TURNQUEST
Tribune Chief Reporter
aturnquest@tribunemedia.net
FOX Hill MP Fred Mitchell yesterday rebuked attempts by Save The Bays' lawyers and attorney Fred Smith to question members of Parliament about the leak of its emails in the House of Assembly, or legally suppress information, in a letter to House Speak Dr Kendal Major.
Mr Mitchell declared that parliamentary privilege was a primary and unassailable right that could not be dismissed by "half baked lawyers and misdirected public officials and courts."
In his letter, Mr Mitchell outlined several persons he felt had breached parliamentary privilege in response to the email leak - including Data Commissioner Sharmie Farrington-Austin.
"I am very concerned at the uniformed hogwash that is being bandied about in public by these proponents of Save The Bays and their high-priced lawyers. These are merely attempts to fool the public and to intimidate and suppress the truth and the facts from being revealed to the public about their real motives and the seditious nature of their conduct," he wrote.
"A Member of Parliament has a duty to ensure that he produces in the high court of Parliament any information which he has in his possession to defend the realm. He cannot be lawfully restrained or suppressed."
The Save The Bays' (STB) controversy was sparked after its confidential financial affairs and e-mails were read out in Parliament.
Cabinet ministers Jerome Fitzgerald and Mr Mitchell and Water & Sewerage Corporation Chairman Leslie Miller all disclosed the private information under the protection of parliamentary privilege.
Last month, Mr Fitzgerald alleged that members of STB were engaged in a well-financed plot to destabilise the government, and he disclosed private email messages about their activities to substantiate his point. Mr Fitzgerald has maintained that he did not have "unauthorised" access to the emails but stressed that his actions were protected by parliamentary privilege.
Last month, Mr Miller also told the House of Assembly that he had seen information to suggest that five members of the group have a combined annual salary of $740,000.
In March, Mr Mitchell claimed in the House of Assembly that some $8.25m had been filtered through various organisations connected with STB from 2013 to 2015. Mr Mitchell also questioned whether STB was a "genuine environmental organisation" or an "attempt to subvert" certain parliamentarians.
The decision to disclose the private information without their authorisation drew criticism from many, including the Data Protection Commissioner.
Mr Smith, together with fellow plaintiffs, the Coalition to Protect Clifton Bay environmental group, and Zack Bacon, brother of hedge fund billionaire Louis Bacon, subsequently obtained a Supreme Court injunction to prevent further disclosure of the documents obtained by the three MPs.
Harry B Sands, of Lobosky & Company, who represents the plaintiffs has issued letters to the MPs seeking assistance in determining how the private information was obtained.
Yesterday, Mr Mitchell noted the Data Protection Commissioner issued a public warning to MPs despite acknowledging that she had no jurisdiction over their conduct.
He said the conduct of STB lawyers and Mr Smith was an "unlawful interference" of enshrined rights to freedom of access to the House and freedom of speech, and warned that he would report the matter to the police if any attempt is made to serve him with any documents related to the matter that has already been forwarded to the Committee on Privileges.
"I will consider such service an assault in law as well," he wrote. "I have worked a lifetime fighting to get to the high court of Parliament and will brook no nonsense where there are attempts to seek to deny the ancient rights which are enshrined in our laws for members of Parliament that are all for the protection of the public."
Lawyers for Mr Bacon, Mr Smith and associated parties also wrote to the Speaker yesterday, drawing attention to the injunction and asking again for transcripts of what was said in the House on March 16, 17 and 21.
They also wrote to the Data Protection Commissioner saying they were continuing to try to identify the "persons unknown" who had obtained the leaked documents including financial records and emails. Those measures include "digital forensics, investigations and more general inquiries".