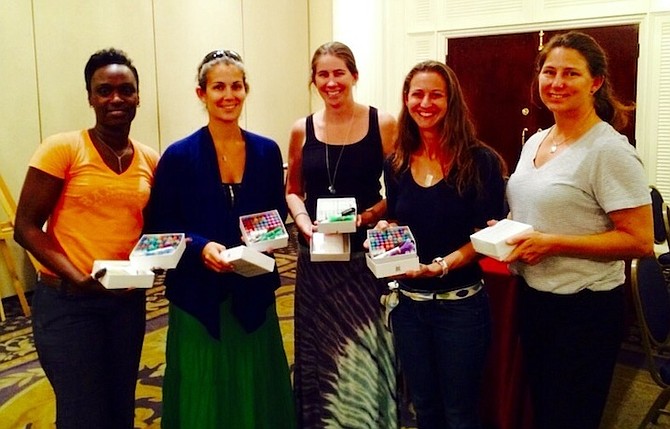 THE NASSAU Grouper, one of the most important fishery species in the Bahamas and wider Caribbean, is under threat of survival because of heavy over-fishing, according to scientists.
Grouper is the highest-priced and most popular food fish in the Bahamas but due to increasing scarcity its market price shows that it is now a luxury item.
Nassau Grouper has been fished out in most of its regional range, but scientists say it is still possible to protect a viable population in the Bahamas with proper fishery management. Despite a closed season implemented in 2004, a high level of poaching still takes place at spawning aggregations, which are key to the species' survival. Scientists have reportedly seen evidence of active fishing at every spawning site they visit during the closed season.
Despite the fishing embargo, some spawning aggregations have already disappeared, and once this happens they never recover. Meanwhile, commercial landings of grouper have been declining for more than two decades.
The Bahamas National Trust (BNT) is supporting a multi-year research study on the Nassau grouper led by Dr Craig Dahlgren of the Caribbean Marine Research Centre and Bahamian Phd candidate Krista Sherman. They are supported by Dr Kristine Stump, a marine biologist who worked at the Bimini Field Station, of the Shedd Aquarium in Chicago.
"This research will help us develop effective management practices that will be of major significance for the future status of the species," BNT Executive Director Eric Carey said on Friday. "Groupers only spawn in aggregations and if these are depleted there will be no next generation of groupers."
Ms Sherman, who before beginning graduate studies at the University of Exeter was a BNT science officer, said: "Bahamians have fished grouper for centuries, and the fishery supports thousands of livelihoods. For the last three years we've been assessing the status of spawning aggregation sites. The Bahamas is one of the few places where these still exist."
To improve understanding of the population structure and physiology of grouper spawning aggregations, the researchers are using cutting-edge techniques including advanced acoustic telemetry and genetic analyses. Divers have placed 33 acoustic telemetry monitors over 200 miles of the continental shelf off the eastern coast of Andros. Past studies revealed that groupers migrate along the edge of the shelf.
Researchers have tagged scores of Groupers, and others have had acoustic transmitters surgically implanted. Blood samples and fin clips are also being collected for genetic testing at the University of Exeter.
Partners in this effort include the Cape Eleuthera Institute, Bahamas Reef Environment Educational Foundation, the Atlantis Resort, the Exuma Foundation, Friends of the Environment, Dr Karen Murchie (College of The Bahamas), The Nature Conservancy and the Gerace Research Centre.
These groups are working with local fishing communities to obtain Nassau Grouper samples from around docks or landing sites on several islands.
"The information we are developing is crucial to advance conservation efforts and set fishery management policies," Ms Sherman said. "The genetics work will help explain how Grouper movements and larval transport affect the health of the species in the Bahamas."