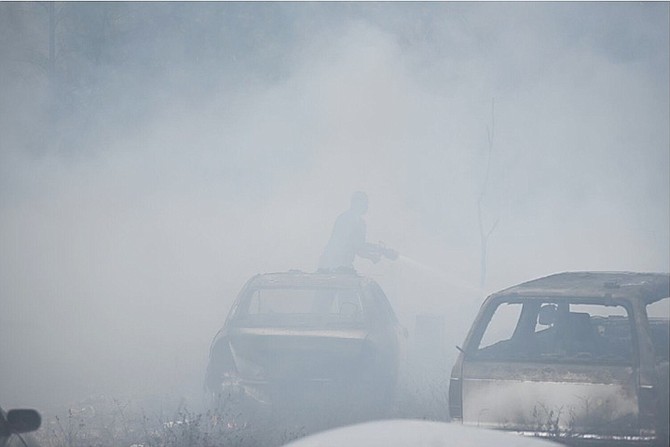 By RICARDO WELLS
Tribune Staff Reporter
rwells@tribunemedia.net
OFFICIALS from Police Fire Services yesterday said the quick action by its unit and area residents prevented a major blaze from escalating in the Sir Lynden Pindling Estates area.
Head of the Police Fire Services Unit, Assistant Superintendent Walter Evans said officers responded to a massive bush fire raging near the centre of the residential community shortly before 1pm on Tuesday.
"When we got here a very large area of bushes was burning and (there are) a number of homes which are in this area and were being threatened," ASP Evans said.
Four fire services vehicles were deployed to the scene and immediately began to battle the blaze from two sides.

"There were a number of vehicles that were in nearby bushes and as a result of this we have had several of them being destroyed," he added.
"The major concern here was the residencies that are here in this subdivision. A number of persons who were home at the time, they used buckets of water, they were wetting the roofs, wetting the bushes and they assisted."
When The Tribune arrived on the scene, huge clouds of smoke were rising from the bushes at the rear of an apartment complex. A number of buckets filled with water could be seen around the property,
Earlier this month fire officials had to battle four separate fires in Crooked Island.
Residents in Major's Cay, Colonel Hill, Cabbage Hill and Landrail Point were forced into action nearly two weeks ago when fires erupted in inland bushes.
Matters worsened as a result of a lack of fire personnel and equipment on the island. Residents were forced to band together with basic household items to combat the massive fires.
ASP Evans said the cause of the fire was not known to officers at the time.
He extended a plea to the public, reminding them that this was the "dry season".
ASP Evans urged members of the public to remain vigilant of their surroundings and be on the look out for brush fires as bushy areas around the country are prone to blazes this time of year.