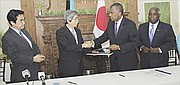 THE government of Japan has extended a grant opportunity to The Bahamas for the purpose of contributing to the implementation of its Economic and Social Development Programme.
Through this initiative, Japan has extended to the Bahamas government two hundred million Japanese Yen - the equivalent of $1,753,550.87 USD.
On Sunday, at an event organised and hosted by the Ministry of Foreign Affairs and Immigration, Foreign Affairs and Immigration Minister Fred Mitchell signed on behalf of the government of the Bahamas at the Balmoral Club.
The grant will be used by the government exclusively for the purchase of products and/or services necessary for the implementation of the programme. Products and/or services to be purchased by this grant will be enumerated in a list that will be mutually agreed upon by the appropriate authorities of both governments. In addition, the grant shall be used for payment of such fees necessary for the implementation of the programme.
Eligible products for the grant are limited to equipment for disaster risk management, disaster response and disaster restoration. In addition, training and other necessary services for operation of maintenance of equipment or consultant services would be covered.
The National Emergency Management Agency (NEMA) has submitted an application for the grant and shall be the main authoritative agency concerned with the Bahamian government for the grant.
The Bahamas benefited from similar aid from Japan in 1999 in the aftermath of Hurricane Floyd.

NEMA has submitted a list of items for consideration. The intended utilisation plan for the equipment is to augment NEMA's Transportation Emergency Support Function logistical and transport efforts. It is NEMA's aim to have equipment in the Disaster Relief Warehouses of Hawksbill, Grand Bahama; Coral Harbour, New Providence, and Great Inagua.