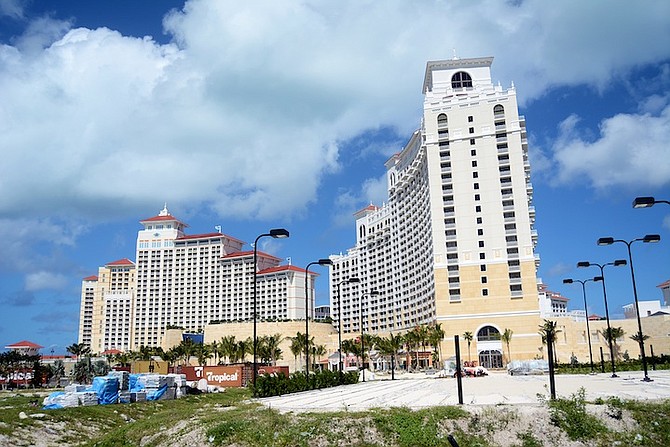 By KHRISNA VIRGIL
Tribune Staff Reporter
kvirgil@tribunemedia.net
BAHA Mar developer Sarkis Izmirlian is "deserving of every consideration" regarding his newly submitted plans to the Export Import (EXIM) Bank of China as he eyes regaining control of the resort with a view to completing and opening the stalled West Bay Street project, Prime Minister Perry Christie has said.
Mr Christie said he recently met with the developer to discuss "a number of new offers" to the bank and has since written officials to confirm that they received the new plans. In an interview broadcast on Our News, he said he has also inquired as to whether the EXIM Bank plans to give consideration to these offers.
Meanwhile, Gowon Bowe, chairman of the Bahamas Chamber of Commerce and Employers Confederation (BCCEC), insisted yesterday that Mr Izmirlian was well within his right as the "mastermind" behind the resort to make a bid to regain control of the property.
However, despite this new bid by Mr Izmirlian, Mr Bowe said stakeholders still have to respect the fact that this matter will have to play out in court.
Mr Izmirlian, in a letter sent on Monday, asked the president of the EXIM Bank to accept his offer to complete and open the stalled resort, promising to rehire Bahamian employees while ensuring that the bank does not accept a discount on its debt.
His offer would also ensure that unsecured creditors, many of whom are "suffering in The Bahamas," would be paid.
Mr Christie said Monday night: "He (Mr Izmirlian) met with me and discussed having put in a number of new offers to the bank. I have written the bank in pursuance of his advising me to ask the bank to confirm that has happened and that they are giving consideration to it.
"Clearly he is deserving of every consideration and it is a question of the bank being in a position to determine what they are going to do."
"I think it's a question of the bank making the right decision as what's best for them and the Bahamas," he told Our News.
"What Mr Izmirlian has advised me is that he has put in an offer or offers that will not cause the bank to lose any money. I have not seen the offer (but) I am assuming that means it's an attractive offer. But again it is on the part of the bank. They have to make that decision."
Asked whether he was of the view that Mr Izmirlian had sufficient money to complete the resort and open it, Mr Christie said although the developer comes from a family that is not short on money, he would like to see how the offer was constituted.
He further suggested that despite public frosty relations between Mr Izmirlian and the government, he was ready to move on and let bygones be bygones.
Speaking to The Tribune yesterday, Mr Bowe added that should Mr Izmirlian's plans be favourable with the EXIM Bank it would be a good idea for the developer to reengage China Construction America (CCA) Bahamas to complete the project despite the "high level of acrimony" which seemingly exists. Mr Bowe said both have business interests to protect.
"Sarkis Izmirlian has every right to impose on the government to be open to his offer because he was the original developer and mastermind behind it," he said when contacted.
"To be honest, business makes strange bed fellows and everyone knows there is a strong level of acrimony which exists. But at the end of the day they have business interest to protect.
"CCA has its reputation on the line and I think they would want to correct the perception that they can't follow through with agreements. As it relates to it I don't expect to see them toasting champagne, but all of them have a vested interest.
"Persons who you see as sworn enemies in public are the best of friends in private so I don't think we should read so much into all of the public discourses."
He continued: "A process is in play. The bank has taken a step to appoint a receiver, which was a calculated step and they were awarded this based on the collateral they put up. So in reality they will still have to go through the process.
"We have to respect that it still has to go through. While his letter is good for persons to see it would be up to the government and the receivers to decide how fast or how slow they go."
Mr Izmirlian's letter to the EXIM Bank was a follow-up to the offer he made to the bank on January 11, to which he said he received no response. The terms of the offer have not been publicly disclosed.
He sent the letter following what he called a "positive meeting" with Mr Christie last week.
A formal sale process for the $3.5 billion project began last month, when Baha Mar's court appointed receivers hired a Canadian real estate firm to market the project to potential buyers.
Mr Izmirlian dismissed that sale process as "opaque, fraught with obstacles and irregularities," and one "not designed to maximise value for all."