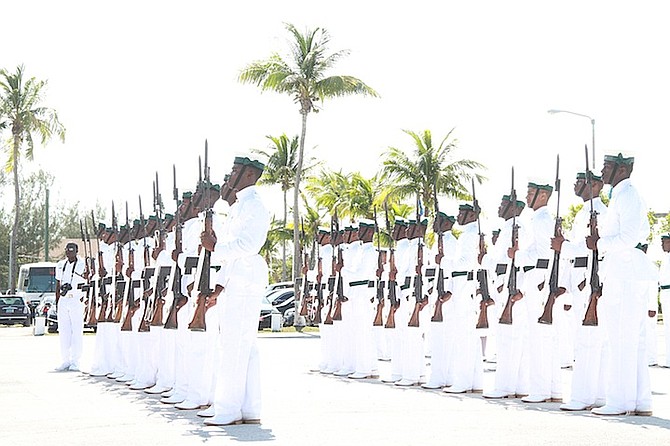 Photo Gallery
Defence Force commissions two entries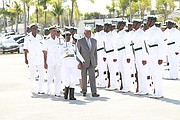 Photos: Tim Clarke/Tribune staff
By RICARDO WELLS
Tribune Staff Reporter
rwells@tribunemedia.net
THE Royal Bahamas Defence Force (RBDF), continuing its move to bolster the number of enlisted marines, commissioned two entries at the Coral Harbour base on Friday.
Minister of National Security, Bernard Nottage, was on hand to compliment the two units - Women Entry 22 and New Entry 53 - insisting that the growth of the force remains a major focus of the Christie administration.
Dr Nottage re-emphasized the need for proven and qualified marines, who he said were needed to protect the country's borders and reduce the scourge of associated crimes in the coming years.
Women Entry 22 marked the largest female cohort for the Defence Force in more than ten years with 17 new officers.
New Entry 53, a 65-member, all male cohort, was also commended as it included a number of notable recruits - Tamiko Culmer, the former company commander for the Defence Force's Rangers Programme and Renard Davis, a recruit who enrolled to honour the memory of his late father.
The recruits entered the RBDF training programme on January 23. They were exposed to navigation training, seamanship, field craft, small arms training, hand-to-hand combat training and charter development.
According to Senior Lieutenant Origin Deleveaux Jr, assistant training officer, the two cohorts are expected to complete an additional four weeks in the programme before being dispatched to various posts around the country.
Last spring the RBDF commissioned the largest recruitment cohort in its 36-year history.
In recent years the Defence Force has worked to reshape itself under the guise of the Sandy Bottom project, which represents the single largest capital investment the government has made in the unit since its inception in 1980. The $232m investment has allowed for the upgrading and establishment of bases and the acquisition of nine boats for the marine corps.
In March the RBDF commissioned three new vessels and a 17-piece containerised mobile base. The 187-foot, multifunctional cargo carrier, HMBS Lawrence Major, along with two 98-foot patrol vessels, HMBS Lignum Vitae and HMBS Cascarilla, joined the HMBS Arthur Dion Hanna, the HMBS Durward Knowles, the HMBS Leon Smith and the HMBS Rolly Gray as seven of the nine ships that will comprise the service's modern fleet.
The 17-piece mobile base allows the RBDF to erect a mobile kitchen capable of producing 250 meals per day, a 40-foot mobile medical unit, a 20-foot dry towage container, a water treatment plan, water tanks, a 20-foot workshop for marines, two generators and other amenities.
The Sandy Bottom Project was announced in mid-2014.