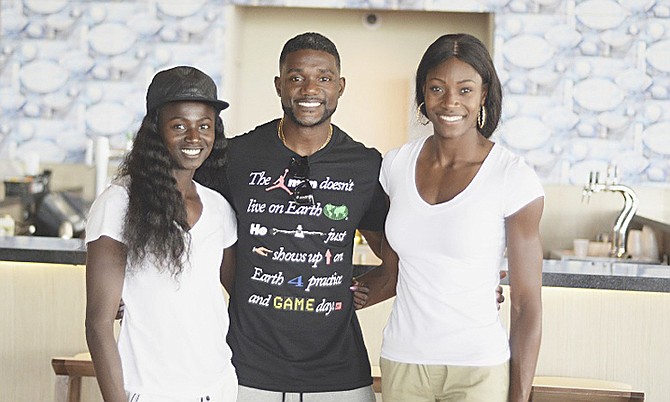 By BRENT STUBBS
Senior Sports Reporter
bstubbs@tribunemedia.net
Bahamian quartermiler Shaunae Miller, now engaged, heads a list of world-class athletes who arrived at the Lynden Pindling International Airport yesterday to participate in the second Chris Brown Bahamas Invitational.
Among those who came in on various flights throughout the day were Veronica Campbell-Brown, Tori Bowie, LaShawn Merritt, Justin Gatlin, Kirani James, Christian Taylor, Leevan 'Superman' Sands, Michael Mathieu and David Oliver. They will be in the star-studded lineup in the various events on Saturday at the Thomas A Robinson National Stadium.
The invitational will get started at 6pm, following the completion of the junior segment that will run from 11am to 5pm.
"I'm excited to compete. It's my first outdoor meet for the year. Before this, I've only been training, now I get to open up," Miller said. "So I'm just waiting to see what I have in stock. I'm excited to come here at home again."
Miller, the reigning World Championship silver medallist in the women's 400 metres, will be running her signature event at home and she indicated that she's just delighted to be a part of the field that Brown has assembled.
"Chris Brown is a very nice individual and I'm just so happy that he's finally going to get the meet off again," she said. "I know everyone is pretty excited to compete down here and I'm exciting some great things, so I'm just looking forward to performing before the Bahamian crowd."
Miller, who will turn 22 today, comes into the meet having just celebrated her engagement over the weekend to Miacel Ubio from Polva Estonia, who is in his senior year at the University of Georgia where he competes in the decathlon.
"It was a surprise. We were having a pre-birthday dinner and he popped the question," said Miller as she responded "yes." "It's exciting. It's going to be a new start for me, but we won't start arranging things until after the season. I know my mother, (Maybelene Miller) will be on top of everything."
Returning to the Bahamas to compete again in the men's 100m is American Justlin Gatlin, the double sprint silver medallist behind Jamaican Usain Bolt at the World Championships. Gatlin was here in 2013 for the initial meet and he's looking forward to competing again.
"It's going to be a great opener. I'm looking to get in a good time here. I love the crowd here, so I'm glad to be back here," Gatlin said. "So time wise, I'm looking forward to running a very good time here for my season opener."
As for Brown, Gatlin said he is like a big brother to him so when he made the transition from a great athlete to a promoter, he had to come out and support him.
"He's shown a lot of growth and development in the Caribbean, so hopefully this meet can go on for years to come and I can continue to be a part of it," he said.
For LaShawn Merritt, there's no better place to compete than in the Bahamas, albeit in the 200m rather than his specialty in the 400m.
"Chris is a great friend of mine. Anything that Chris has in the Bahamas, I will be here," he said. "The first time we had a great time, great crowd, always great weather, so I'm excited to be here. I ran once already about two weeks ago and I ran very fast, so I'm looking forward to running a competitive race and coming out healthy. I'm looking forward to some good music and some food."
Sporting a Golden State Warriors cap, Merritt also reflected on the performance of the Warriors, who clinched the best NBA win-loss record ever (73-9) with their 125-104 blowout over the Memphis Grizzlies. See story on page 8e
"It was a great game. 73 wins, they broke the record," Merritt said. "It's an inspiration for me for things that I want to do this year. I'm actually trying to attack the world record this year. I've been running well for 10 years and I've been running consistent. I've been working hard this year to drop that time and set the record for myself."
The world record Merritt is chasing is 43.18 seconds that is held by American Michael Johnson set in Seville, Spain, in 1999.
Merritt has posted a personal best of 43.65 that he did last year in Beijing, China, at the World Championships when he got the silver behind Republic of South Africa's Wayde Van Niekerk, who did 43.48.
Kirani James out of Grenada, who was third in the race in 43.78, is here and will be running the 400m with American Jeremy Wariner, who has posted some of the fastest times, including 43.45 in 2007. Chris Brown will not be running in the individual event and will only concentrate on the 4 x 400m relay with members of the "Golden Knights."
"It's not going to be easy. The faster people run, the faster I will run," Merritt projected. "Last year, there were a lot of people who ran fast and PRd, so I know this year it's going to be fast in the men's 400m. I already feel it. So with me knowing everybody is getting fast, I really need to buckle down and get faster myself.
"I know it's just a mind thing. I got myself a new coach and we are putting some things together to go out and run fast. I want to leave a legacy in this sport and that will only come with running fast."
Merritt and the rest of the athletes have vowed to "bring the fire" to the invitational on Saturday. They are just hoping that the Bahamian people will come out and "catch the fire."