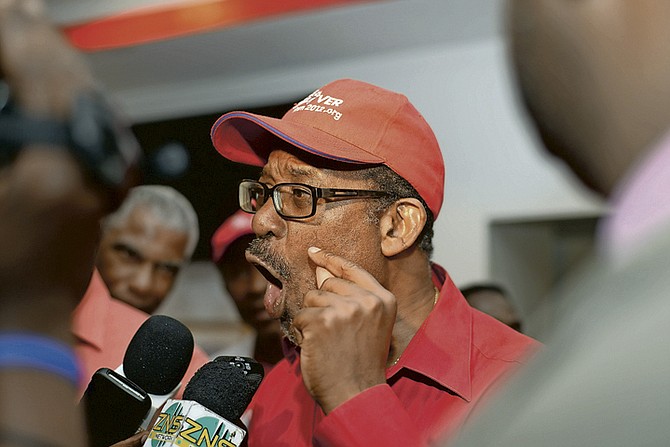 NEWLY elected FNM Chairman Sidney Collie said the party will continue to demand accountability and transparency in government, in the wake of a US report that highlighted the government's ineffectiveness at implementing corruption laws.
In a statement released on Sunday, Mr Collie said: "Following my election to chairman of our great Free National Movement party, I have heard from so many of our fellow citizens both congratulating me on my new role, but also sharing their growing legitimate concerns about the downward direction of our beloved country. The Bahamian people want to know what is happening to their country.
"Their concerns are indeed troubling because over the past several years all of us have seen an eccentric, foreign billionaire lavish the PLP with $5 million in political donations," he said, referring to Lyford Cay resident Peter Nygard.
He also said that Deputy Prime Minister Philip "Brave" Davis is connected to two "thugs that have threatened, intimidated and used violence against anyone that dares to question them".
He was referring to Livingston "Toggie" Bullard and Wisler "Bobo" Davilma, two men named in court documents as being hired by Mr Nygard to allegedly commit crimes against the fashion mogul's opponents. The two men also claim, according to court documents, to have government contracts with the Ministry of Works, under Mr Davis, and to know Mr Davis.
In several covert recordings which were filed with the lawsuit against Mr Nygard by Save The Bays in March, Bullard and Davilma claim that they were told by Mr Davis to support Mr Nygard unconditionally as a major "sponsor" of the Progressive Liberal Party.
"It's no wonder the 2015 Country Report on Human Rights Practices called out the government's ineffectiveness at implementing corruption laws," Mr Collie added.
"So I wish to put the PLP on notice that as we continue our journey on the road to rescuing our country and put it on the path to prosperity and peace, we will demand accountability, transparency and integrity in government and in that respect ask the simple question: Why have you allowed our country to be sold off to an eccentric, foreign billionaire?
"We cannot and will not allow the government to turn a blind eye to corruption, our families deserve better. They deserve accountability. I have long been a member of the FNM because it's a party that listens to our communities and neighbours – and we work for them. Because every citizen deserves to know their government is here for them and not beholden to rich outsiders that feel they are above our laws."