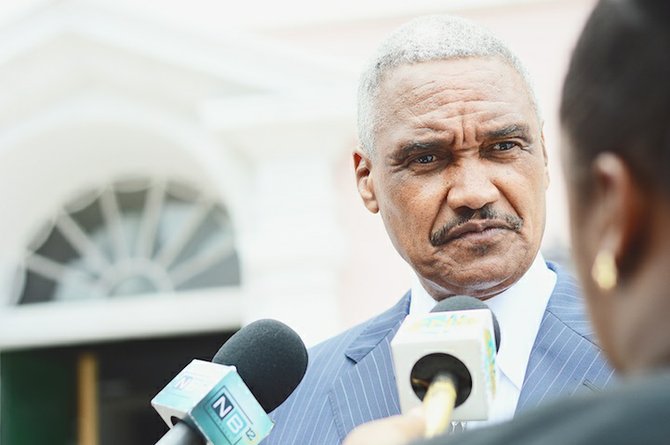 By KHRISNA VIRGIL
Tribune Staff Reporter
kvirgil@tribunemedia.net
TALL Pines MP Leslie Miller yesterday insisted that the granting of government contracts to political supporters will "never stop" because politicians must "do what they have to do" to win elections.
His statements came despite the US State Department's scathing report pinpointing the government's feeble implementation of anti-corruption laws buttressed by a vulnerable contract procurement process.
In an interview with The Tribune yesterday, the senior Progressive Liberal Party (PLP) MP added that if Bahamians "are crooked", it is because they were taught to be that way from the "damn Americans".
He insisted that he didn't put "too much weight" on the newly released report, adding that he viewed it as baseless because "it sure as hell didn't provide any proof" of its "arbitrary" findings.
Mr Miller, the former minister of trade and industry, said he doubts the report will have any serious implications for the country.
Asked about the government's bidding process and several instances that have gone public where contracts were given to party supporters, Mr Miller said he viewed it as "political patronage" but not corruption.
He was speaking about the US State Department's 2015 Country Report on Human Rights Practices in this country. The report, released last week, said the government procurement process was "opaque" given that there was no requirement for open public tenders or allowance for award decisions to be reviewed.
The report noted that there were "frequent" reports of government corruption during the year, but did not give specific examples.
"I don't put too much weight on the US and what they have to say," the MP said when contacted by The Tribune. "I pay no attention to them. The report is baseless because they sure as hell didn't provide any proof.
"If Bahamians are crooked, most people who make you crooked are the damn Americans who you deal with. They are the ones who teach you how to be crooked.
"The US just arbitrarily makes these statements and then people ask for them to show proof and there is none. It is just observations made generally by companies that didn't get contracts when they felt they should have gotten them.
"Even though a lot of times they insist that the process is being rigged to make sure they get the contract. This is a two-sided affair."
Mr Miller is the second PLP MP to publicly acknowledge that the party awards contracts to supporters.
In February, Agriculture and Marine Resources Minister V Alfred Gray defended the Christie administration's decision to award former PLP Cabinet minister Darrell Rolle a construction contract at the Bahamas Agriculture and Marine Science Institute, saying the government will do as much as it can for the people who supported its members.
Mr Rolle was also reportedly allowed to borrow approximately $200,000 from the Bahamas Development Bank (BDB).
"I wouldn't call that corruption," Mr Miller added. "The Free National Movement is just as guilty as the PLP. The FNM gave millions upon millions in contracts to their supporters. It's not fair and it's not right but that's what political parties do when they are being inundated or terrorised by certain people who believe they have a right and that they supposed to get contracts even if they don't have experience.
"As a minister, you can't tell supporters or his top fellows on the ground that he can't do XYZ because as far as he is concerned he can walk on water. There is nothing he cannot do even though they know better because that is the pressure they put on ministers; that you got to give them ABC to enable them to get payback for the work that they did during the general elections. Both parties do it and it ain't going to ever stop.
"That is just human nature. You help those who help you. That is just the way it is and there is nothing we can do about it."
Mr Miller added: "You have to do what you have to do to retain those people's confidence and retain their allegiance to you to make you win again - (there is) nothing wrong with it. It's not fair but in the world in which we live it's the norm and it's going to continue. It will never ever stop and that is just the way it is."
The US report said Bahamian law provides criminal penalties for corruption by officials, however the government did not implement the law effectively, and officials engaged in corrupt practices with impunity.
"The procurement process was particularly susceptible to corruption, as it is opaque, contains no requirement to engage in open public tenders, and does not allow award decisions to be reviewed," it said.
In October, the Office of the Attorney General charged a former state energy-company board member under the Prevention of Bribery Act, the first significant case brought under the act since 1989, the report noted.
Former board member of the Bahamas Electricity Corporation, Freddie Solomon Ramsey was charged with four counts of conspiracy to commit bribery and 14 counts of bribery allegedly committed between 1999 and 2003.
On the subject of corruption and government transparency, the Human Rights Practices Report also took issue with the fact that there was no independent verification of annual public disclosures from senior public officials, and called the annual submission rate "weak" unless it was an election year.
Financial disclosures must be turned into the Public Disclosures Commission (PDC) by March each year.