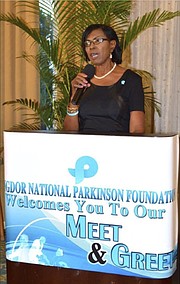 By ALESHA CADET
Tribune Features Reporter
acadet@tribunemedia.net
THE Kingdor National Parkinson Foundation will host its 16th annual gala ball on Saturday, April 30 in honour of those who have played a significant role in the development of the foundation or given excellent service to the Bahamian people.
The event will take place at the Meliá Nassau Beach Resort, with cocktails starting at 6.45pm and dinner at 7.45 pm. Those to be honoured include Eldece Clarke, Pauline Davis-Thompson, Claudette Allen, John Todd, Kevin Johnson, Everett Hart, Anthony Newbold, and Patrick Roberts. Receiving the foundation's Dr King S Darling Humanitarian Award will be Rev Ivan Butler and Dr Glen Beneby.
The Dr King S Darling Humanitarian Award is presented every five years at the gala ball to a physician, healthcare provider or minister of religion who manages his or her field of concentration, giving back to society in a meaningful way.

Since its inception in 2000, the Kingdor National Parkinson Foundation has hosted its annual gala ball in addition to various other activities to raise awareness and provide support for those living with Parkinson's disease.
Last April, the foundation countries around the world in observing Parkinson's Disease Awareness Month.
Over the years, the foundation has helped more than 1,000 persons by way of organised functions, for example the training for caregivers. In addition to the gala events, the team has also hosted walk/run competitions and a speech competition through which younger persons are taught about the disease.
Parkinson's disease is a progressive disorder of the nervous system that affects movement. It develops gradually, sometimes starting with a barely noticeable tremor in just one hand.
Kingdor founder and chairperson Mavis Darling-Hill said the Kingdor National Parkinson Foundation is always proud to take any and every opportunity to heighten awareness of the debilitating condition.
"When my dad was diagnosed with Parkinson's disease I thought my world was collapsing around my family and me. I thought, why him? He took good care of himself, never smoked or drank; a very good person, a Christian, and of course a Minister of the Gospel. However, coping and managing the condition was very taxing because there was little materials available and there was little on the internet at the time. Nevertheless, everything we found on the topic of Parkinson's Disease was copied and shared between my siblings. It was a new world for us because the word Parkinson's was very strange and unknown," she said.
Many of the signs and symptoms of the disease are not easily recognisable, and Mrs Darling-Hill said she and her siblings took notes and started journals regarding their father's battle with the condition.
"After the death of our father eight years after his diagnosis, my siblings and some of our friends banded together to establish the organisation as it is known today. The Kingdor National Parkinson Foundation was established in memory of my parents, Rev Dr King S Darling and Dorothy Darling, his primary caregiver," she said.
A Parkinson's disease diagnosis, she would like people to know, is not a life sentence; it is a challenge, and with every challenge there come opportunities.
"When I meet people who are stricken with the disease I encourage them to take advantage of the opportunity to educate the populace regarding the signs and symptoms of this debilitating condition," she said.
The foundation has planned several activities to heighten awareness of the condition for the remainder of the year, including the walk/run competition in May, the Caregiver's Conference in September, and a speech competition for senior and junior high school students in November.
"We also plan to visit many other non-profit organisations and churches to discuss Parkinson's disease. Also, we plan to write and produce newspaper articles and visit schools throughout the Bahamas to discuss Parkinson's with the younger generation," said Mrs Darling-Hill.