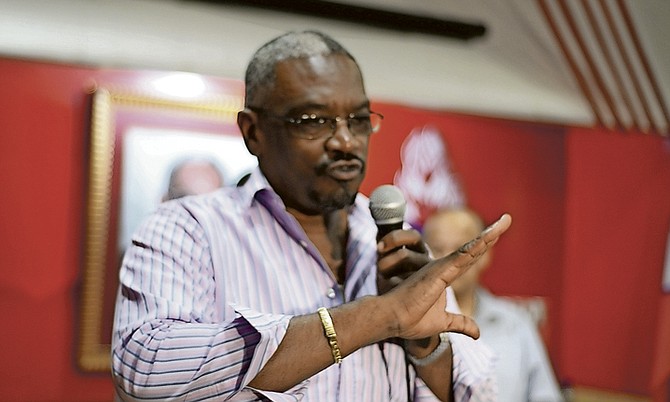 By AVA TURNQUEST
Tribune Chief Reporter
aturnquest@tribunemedia.net
FNM Leader Dr Hubert Minnis yesterday called Tall Pines MP Leslie Miller's comments over the government's procurement process a brazen admission of the government's role in the endemic corruption that plagued the country.
Mr Miller told The Tribune on Sunday that the granting of government contracts to political supporters will "never stop" because politicians must "do what they have to do" to win elections.
He was responding to the US State Department's scathing report pinpointing the government's feeble implementation of anti-corruption laws, which is exacerbated by a vulnerable contract procurement process.
Yesterday, Dr Minnis said it will be up to his party to fix the country's social and economic ills.
"Sadly MP Miller's remarks come as no surprise to Bahamians," he said.
"For too long, the people of the Bahamas have been victim to a PLP government that only looks out for their own.

"Brazenly, admitting to handing out lucrative contracts to their supporters, while dismissing reports of their growing number of abuses."
Mr Miller, former minister of trade and industry, was questioned about the implications of the US State Department's 2015 Country Report on Human Rights Practices in this country.
When asked about the government's bidding process and several instances that have gone public where contracts were given to party supporters, Mr Miller said he viewed it as "political patronage", but not corruption.
He added that the American government often made statements arbitrarily and without proof.
Mr Miller also said: "If Bahamians are crooked, most people who make you crooked are the damn Americans who you deal with. They are the ones who teach you how to be crooked.
"The US just arbitrarily makes these statements and then people ask for them to show proof and there is none. It is just observations made generally by companies that didn't get contracts when they felt they should have gotten them.
"Even though a lot of times they insist that the process is being rigged to make sure they get the contract. This is a two-sided affair."
In a press statement yesterday, Dr Minnis said Mr Miller's comments were unsurprising.
He said that while Prime Minister Perry Christie has publicly denounced corruption, his government embraced it.
Dr Minnis noted that Mr Christie "all but ignored" reports that the construction contract for the Bahamas Agriculture and Marine Science Institute had been given to a former PLP Cabinet minister.
"It is disappointing for our people when their leader is . . . telling us one thing as his own government [allegedly] embraces corruption," he said.

"The only way that we will stop corruption is with new leadership.

"Leadership," Dr Minnis added, "that will bring true accountability, including enacting new anti-corruption laws that establish an independent agency with no ties to the Office of the Attorney General."
He said: "Our economy is in ruin, crime is rising and the people have lost faith in this government. The prime minister should know that corruption plays a big role in this and it will be up to the FNM to fix it."
The report, released last week, noted that there were "frequent" claims of government corruption during the year, but did not give specific examples.
"The law provides criminal penalties for corruption by officials, however, the government did not implement the law effectively, and officials engaged in corrupt practices with impunity," the report said.
"The procurement process was particularly susceptible to corruption, as it is opaque, contains no requirement to engage in open public tenders, and does not allow award decisions to be reviewed."
On the subject of corruption and government transparency, the Human Rights Report also took issue that there was no independent verification of annual public disclosures from senior public officials, and called the annual submission rate "weak" unless it was an election year.
Financial disclosures must be turned into the Public Disclosures Commission (PDC) by March each year.