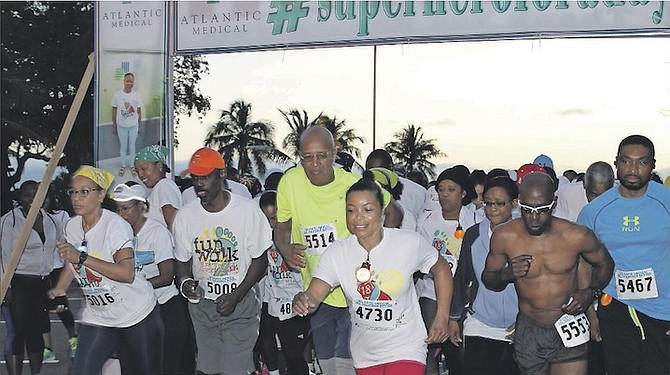 MORE than 1,400 "superheroes" took to the street on Saturday morning for the 18th Atlantic Medical Insurance Fun Walk Run, the company's premier fundraising effort in support of the Bahamas Diabetic Association and the Cancer Society of the Bahamas.  
Organisers are hoping that the event will surpass last year's $43,000 donation and highlighted "superheroes" (survivors) of both cancer and diabetes.
"This year, we decided to highlight actually recipients. You would have noticed that we had two young ladies who have diabetes participating in the walk. We wanted to put a face to these illnesses," said Anastacia Francis, Atlantic's Director of Operations.
"On a daily basis we see the ravages of these illnesses [diabetes and cancer]. So this event really does mean a lot to us in terms of giving back. Also, the support we're getting from the public means a lot too. We're sending a message of education.
"Superhero" is a title that Mackey Williams wears well. A veteran of this event having participated 13 times, he approached the winner's podium at Montagu Beach to loud cheers and applause. He had speedwalked across the finish line while pointing one finger in the air. He knew that he was the first walker to return.
Anastasia Stitch, a first time participant, took home the overall female runner trophy and was grateful for the opportunity to support her community.
Third place male finisher was Ryan Bethel. He also won the 40-49 male runners age category. Mr Bethel sees active living as an answer to health and emotional issues. "Exercise is what will get rid of anxiety, high blood pressure, etc," he said. "You need to exercise. The Bible says that bodily exercise profits the body a little. Whatever that little is, I want that little! Stay healthy and live long."
One of the most energetic groups at the event, Jay Fitness Club, also took home five trophies in various age categories: Stephen "Ultraman" Hanna, Demario "Giddymo" Minus and Jay "Ironman" Rolle swept the 30-39 year old male runners category, coming in first, second and third respectively.
Yanelis "Stallion" Lightbourn came first among the 40 to 49-year-old female runners while Tamika "Da Machine" Roberts took second.
The popular Atlantic Medical event attracted competitive runners, casual walkers, seniors as old as 84, couples pushing their babies in strollers, fitness enthusiasts of all body types, professionals, politicians – all proof that anybody could be a superhero for the day.
"We are so thankful for all the superheroes you see out here," Ms Francis said. "We are all able to do something. Just by giving a little, by giving your time and also by going into your wallets - as a lot of pople have done this morning - it goes a long way. Small amounts, when we pool them together, will go a long way. We're very thankful for all of the support we've gotten this year."
Corporate sponsors like Bahamasair, Club One Fitness Centre, Cable Bahamas and Dolphin Encounters donated prizes and the top three male and female winners in each age category won trophies.
"It's more motivation and it's for a worthy cause. It helps to encourage others. So love what you do. Your health is your greatest asset," said Mr Williams about the significance of this event and regular exercise.
"Giving back is vital. It's an essential part of being a part of a community and having an awareness. Incorporating action and service in a very creative manner is something that I am very passionate about. We do it at school. We do it as Bahamians here in the wider community. And its lovely to see such a wide reception here today," said Ms Stitch, a teacher at Lyford Cay International School.
"I think that being a superhero is a day-to-day endeavour for most people. Bahamian women and men work very hard whether it's in the teaching profession or as a doctor - any service industry. Being a superhero has a wide variety of definitions. Many people go unnoticed, but they should take that title."