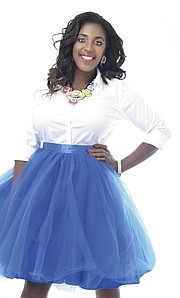 By JEFFARAH GIBSON
Tribune Features Writer
jgibson@tribunemedia.net
SHE may be able to heal the wounds of her patients, but no amount of medication could alleviate the pain Bahamian doctor Lorneka Joseph experienced after being rejected and left broken by her past romantic relationships.

Like many women, Dr Joseph believed that she could find the ultimate fulfilment in love. After failing in that area, she realised that investing in love without first investing in her life was a big mistake.
At her lowest point, Dr Joseph redirected her focus and the result was a pathway to purpose.
Now, Dr Joseph told Tribune Woman that she has been on "a journey of celibacy". She wants to inspire other women to wait on God and allow him to heal past hurts in her new book called "Right Things, Wrong Season".
The book, which was released earlier this month, is a guide for single women who find it a challenge cutting ties in unhealthy relationships.
In the book, Dr Joseph shares valuable lessons from her personal experience in dating and ways women can improve their lives while waiting for marriage.
"I always loved writing as a teenager. So after my relationships failed and I rededicated my life to Christ, I made a commitment to remain abstinent until marriage because I was tired of the vicious cycle. I was able to heal from my past and activate my purpose. Then I noticed girlfriends/colleagues were calling me about their relationships so I started a talk show which led to me writing this book," she said.
While studying at Florida A&M University in Tallahassee, Dr Joseph began writing health columns for her university's newspaper. Then she began sharing her story on campus with roommates and in group Bible studies to help encourage women and help them move on from painful relationships.
Years later, the opportunity arose for her to write for various periodicals about her journey of singlehood. She then launched the "Single, Saved & Fabulous" movement as a symbol of her commitment to save sex for marriage. Dr Joseph believes that girls and women should first build a relationship with God, themselves, pursue their purpose, and then true love will follow in God's timing.
"I want women to know that there is more to life than just sex, work and bills. Marriage is beautiful, but it's important to find your identity outside of man before marriage. This book will teach women how to chase their dreams and embrace singleness until God brings them the right person. Preparation is key," she said.
"There are so many young girls and women hurting and looking for love, but they don't know how to move past their disappointments. I also believe that there are many fatherless children because a lot of women are broken internally while looking good externally. And only God fills the empty voids they feel, not another man, especially if he is broken as well."
She said she hopes the after hearing her story, women are inspired to keep the faith and not give up on their dreams.
Dr Joseph currently hosts her "Single, Saved & Fabulous" show monthly with women around the world listening and calling in for tips on how to overcome the challenges of being single in today's world. She is also licenced pharmacist, health advocate and international speaker who resides in Florida. She currently works as a pharmacist at Walgreens.