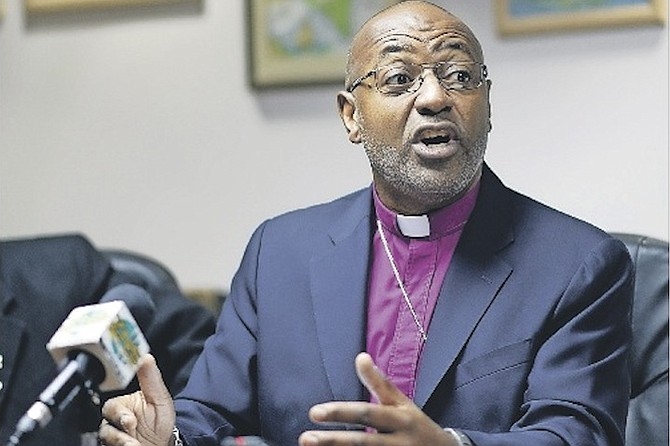 By RASHAD ROLLE
Tribune Staff Reporter
rrolle@tribunemedia.net
TOP religious leaders across denominations united yesterday to declare their hope that Bahamians vote yes to all questions during the gender equality referendum on June 7.
The church leaders, including Bishop Neil Ellis of Global United Fellowship of Churches, Bishop Laish Boyd of the Anglican Diocese and Archbishop Patrick Pinder of the Roman Catholic Archdiocese, urged Bahamians not to send a political message by rejecting the amendments.
"I'm of the view that the last referendum held not too long ago has left a bitter taste in people's mouths," Bishop Ellis said, referring to the 2013 referendum on gaming.
"I'm further of the view that this is not the time to teach this government a lesson for what we think didn't go right; there's too much at stake this time."
The press conference was a contrast to a prayer session hosted in Rawson Square Monday evening by pastors urging Bahamians to vote no to the fourth Constitutional Amendment Bill, which seeks to prohibit discrimination on the basis of sex.
Leaders yesterday said their event was not a reaction to that campaign, adding that diverging opinions among pastors does not mean there is significant division in the religious community.
Rev Derek Browne of the Methodist Church in the Caribbean and the Americas; Bishop Franklyn Ferguson, national overseer of the Church of God of Prophecy in the Bahamas; and Rev Dr William Thompson, senior pastor of Faith United Missionary Baptist Church, also attended yesterday's conference to voice their support for the bills.
Some said they were initially critical of the fourth bill and inclined to reject it; but after an exhaustive consultation process that involved amending the bill, they now unequivocally support it.
They suggested they were perplexed that some still insist that the bill will lead to same-sex marriage.
"Persons are entitled to have their opinions," Bishop Boyd said. "People are entitled to be steeped in their consciousness. I have looked at bill number four, listened extensively to all sorts of views on it. I cannot see how it would lead to same-sex marriage. But I would not want to judge anyone's intentions because I simply do not have enough data to do that."
He added that "tens of thousands of" people are "disenfranchised and traumatised" by having different rules for men and women, as is currently the case under the Constitution.
"Families we all know and love are in anguish and turmoil - and it is not right," he said, adding that some of the phobia surrounding the bills stems from prejudice against Haitians and Jamaicans.
For his part, Archbishop Pinder said the referendum constitutes one of the "more important exercises of our democratic way of life."
"There are those among us who feel that the government of the day ought to be taught a lesson," he said. "Those who hold this opinion are free to do so. However, to use this referendum to act out this opinion would be a grand mistake. The time and forum for acting on such opinions is not this referendum."
Despite their support, none of the pastors said they would join the campaign to promote a yes vote.
Under the first Constitutional Amendment Bill, a child born outside of the Bahamas would become a Bahamian citizen at birth if either its mother or father is a citizen of the Bahamas by birth.
The second bill would give the foreign spouse of a Bahamian woman the same right to apply for citizenship that the foreign wife of a Bahamian man enjoys.
The third bill would allow a Bahamian father of a child born out of wedlock to be able to pass his citizenship to that person subject to legal proof that he is the father. The fourth bill seeks to end discrimination based on sex.