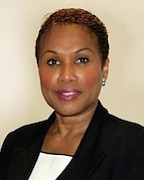 By RASHAD ROLLE
Tribune Staff Reporter
rrolle@tribunemedia.net
SENATE President Sharon Wilson confirmed to The Tribune yesterday that the government is funding the YES Bahamas referendum campaign.
She was unable to say how much public funds are being provided, however.
Her statement will likely prompt those urging Bahamians to vote against at least one of the bills to amplify their requests for funds. Mrs Wilson is co-chair of YES Bahamas campaign.
The Save Our Bahamas Committee, led by a group of pastors, sent a letter to the Office of the Prime Minister on Monday requesting $100,000 to fund its "vote no" campaign.
Up to press time yesterday Lyall Bethel, pastor of Grace Community Church, said his group had not yet received a response to its request.
"The YES campaign is something which is being paid for by the government," Mrs Wilson said when questioned by The Tribune. "The bills have passed through Parliament and it is the desire of the government to see them advanced. The campaign is run strictly to provide information and facts. It's about getting out facts to dispel fears. That's the bottom line and the government is funding that. As to whether or not the government will fund the campaign that goes against what Parliament has sought to advance, I really don't know. It's not my decision to make."
Asked how much money the government provided, Mrs Wilson said she did not know at the time, adding that the funds will be spent responsibly nonetheless.
"I'm not in a position to say how much (is being spent)," she said. "It's something which I do know that everybody is very mindful of financial constraints and the entire team is operating while very mindful of the need to be as conservative as possible, as is the case with any expenditure."
Constitutional Commission chairman Sean McWeeney, QC, told The Tribune on Monday that for legal reasons both proponents of the "yes" vote and the "no" vote should have equal access to public funds to advance their ideas.
He cited legal precedents in Ireland and Australia to support his view.
FNM Deputy Leader Peter Turnquest agreed, though he told The Tribune on Tuesday that the government shouldn't provide public funds at all except to allow the Constitutional Commission to educate Bahamians.