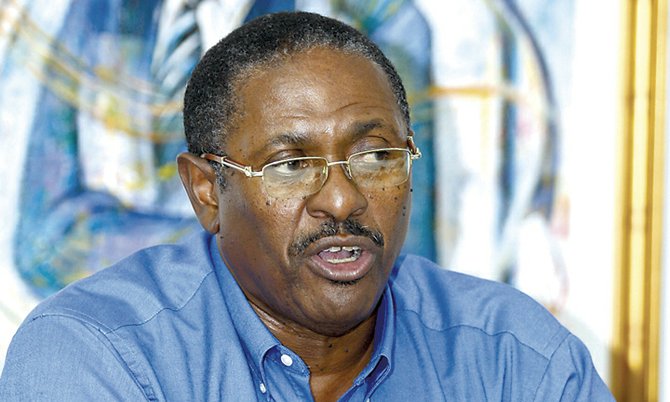 By RASHAD ROLLE
Tribune Staff Reporter
rrolle@tribunemedia.net
PROGRESSIVE Liberal Party (PLP) chairman Bradley Roberts hit out at Marco City MP Greg Moss on Friday, suggesting that he has issues with his sexuality that are causing him to speak out against the contentious fourth bill of the constitutional referendum on gender equality in the Bahamas.
Mr Roberts' response came after Mr Moss told a group of pastors during a forum at Evangelistic Temple on Thursday that some parliamentarians are pushing the bill because of their homosexual identity.
"Greg Moss cannot speak for any member of Parliament except himself," Mr Roberts said. "It is well known that he who shouts the loudest on sexuality may have issues themselves with which they have to deal. If so he must seek the appropriate help but not project his insecurities on others."
Mr Roberts said Mr Moss "has gone overboard", making "ridiculous" comments.
He added that the constitutional commission, chaired by Sean McWeeney, QC, recommended the bills that will be put up for a vote, not the government.
"Mr Moss insults the intelligence of all Members of Parliament with his latest statement," he said, adding that the comments were "reckless," "irresponsible" and "patently false".
"Having been embarrassed in his legal position by a distinguished QC who debunked the nonsense of Mr Moss, he continues to spread false rumours and propaganda. It is clear that Mr Moss does not believe in equality for women. He must confess that instead of making up stories as a smokescreen."
In a separate interview with the Tribune, Tall Pines MP Leslie Miller also criticised Mr Moss' statements, calling them a "blow below the belt".
"I was taken aback and saddened by what he said," Mr Miller said, adding that he wasn't personally offended. I wasn't offended because he sure as hell wasn't talking about me. Leslie Miller certainly don't have an agenda with the gays and the sissies."
Mr Miller said he knows of no colleague in Parliament that has a "gay agenda".
During his presentation on Thursday, Mr Moss also criticised the constitutional commission, calling it biased and too politically motivated.  
He noted the commission had recommended that the government inject a provision in Article 26 of the constitution that would explicitly say that same-sex marriage would not be consistent with the document, despite the anti-discrimination provision.
Mr Moss said the commission should not have remained engaged in the process after the Christie Administration decided not to act on this recommendation.
Mr McWeeney told The Tribune on Friday that the commission's recommendations were not binding. He added that the commission did not even feel that the aforementioned provision was necessary in order to prevent gay marriage from being legal; the intention was merely to allay people's fears.
"Constitutional commissions around the world are there to make recommendations only," he said. "Otherwise we would be running the country."