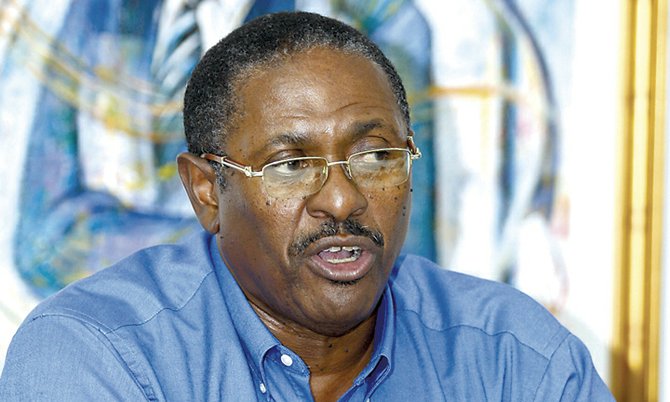 By SANCHESKA BROWN
Tribune Staff Reporter
sbrown@tribunemedia.net
PLP Chairman Bradley Roberts said FNM Chairman Sidney Collie should just "sit in a corner and be quiet" until FNM Leader Dr Hubert Minnis "comes clean" about his involvement with alleged gangsters Livingston "Toggie" Bullard and Wisler "Bobo" Davilma.
In a statement released Wednesday night, Mr Roberts asked on what moral authority does Mr Collie and the FNM point their "self-righteous and hypocritical finger" at the PLP.
On March 21, Dr Minnis admitted that he met with Bullard, one of two men named in an affidavit filed in court by Save The Bays (STB) as being allegedly hired by Peter Nygard to commit criminal acts.
Dr Minnis told The Tribune at the time that Bullard, his constituent in Killarney who he said he met three times, contacted him to pass on a warning to then-FNM Chairman Michael Pintard that he was about to be "set up" by a high ranking members of government and others.
Dr Minnis was adamant that the two men never discussed Mr Nygard, adding that he did not hear of the alleged murder-for-hire plot until The Tribune published claims in an affidavit filed on March 9 by STB directors.
In his statement, Mr Roberts said since Mr Collie is "presenting himself as a self-proclaimed expert" on corruption and scandal, he has a few questions for the newly elected chairman.
"I am sure Mr Collie is fully aware of any number of padded and secret contracts the FNM government awarded to party officers in the run up to the leader elect race of 2001," Mr Roberts alleged.
He also alleged that a FNM Cabinet minister "secured a loan from a public financial institution while" in office".
"To date, that loan is not repaid, is non-performing and contributing to the continued financial woes of that public bank," he further alleged. "Did politics influence this loan? Was this an abuse of power? I also point out that the loans in question granted by the Bank of The Bahamas (BOB) predated the current board and government administration.
"On the issue of eccentric billionaires, I am aware of two who reside from time to time in Lyford Cay and both are on record in their admission to making financial contributions to both the FNM and the PLP. The question for Collie is simply this: who is telling the truth? Also wealthy Lyford Cay residents have been the source of funding for local political parties for many years so what is Collie's point in April 2016? Was he asleep for the past generation?"
Mr Roberts was responding to a statement from Mr Collie, released this week.
"The PLP continues to shock me with the lows that they will reach when it comes to lining their own pockets," Mr Collie said in a statement this week.
"They are willing to sell their party to an eccentric foreign billionaire, give government contracts to their friends and family and appoint those same friends and family to oversee and run the Bank of The Bahamas. The same bank that required a $100m bailout not that long ago. We need to elect people that will work."