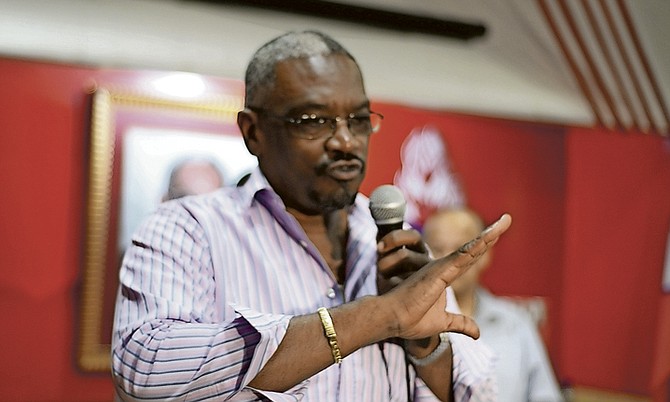 By NICO SCAVELLA
Tribune Staff Reporter
nscavella@tribunemedia.net
FREE National Movement Leader Dr Hubert Minnis yesterday criticised the Christie administration for exhibiting a "helping those who help us" mentality in governance, charging that "tens of thousands" of Bahamians cannot provide for their families as a result.
Dr Minnis, in a statement, accused the government of using "pay-to-play" tactics in "all their government dealings" further charging that Bahamians should not "have to be part of a club to put food on their tables".

Dr Minnis' comments were in response to recent revelations by senior PLP officials that the party awards contracts to supporters, as well as admissions by the chairman of the Bank of the Bahamas (BOB) that political considerations influenced lending decisions under previous boards.
Last week, Tall Pines MP Leslie Miller insisted that the granting of government contracts to political supporters will "never stop" because politicians must "do what they have to do" to win elections. When asked about the government's bidding process and several instances that have gone public where contracts were given to party supporters, Mr Miller said he views it as "political patronage", but not corruption.
Earlier this month, BOB Chairman Richard Demeritte admitted that there was "no question" some lending decisions had been influenced by politics in the past. He later backtracked from that admission, saying he was referring to "perception" rather than reality.
Nonetheless, Mr Demeritte's earlier statement was part of what Dr Minnis called the "financial mismanagement" plaguing BOB.
"Because of the PLP's mentality of only 'helping those who help us', ten thousands of hard working men and women across our country are being deprived of providing for themselves and their families," Dr Minnis' statement said. "The FNM stands for a Bahamas free of such corruption where our people don't have to be a part of a club to be able to put food on their tables."
To that end, Dr Minnis went on to say that the FNM will be seeking to address "very important legislation" pertaining to the Family Islands and various airports in the country when Parliament reconvenes this week, charging that the FNM is "concerned" about provisions in the bills that "mandate government appointed boards, contracts and jobs."
"Recent events and past performances prove that we should all be sceptical of entrusting all this power in the hands of this government," Dr Minnis said. "Bahamians will only be comfortable if we ensure these appointments, contracts and jobs are determined in a fair and open manner. From the Bank of the Bahamas to so many other pay-to-play instances across the country the people are very concerned with having all this unbridled power placed in the hands of the PLP."
Dr Minnis added: "As the House of Assembly returns to session this week, it is imperative that the Bahamian people know at least one party is going to stand up for them. The people demand accountability from their government."