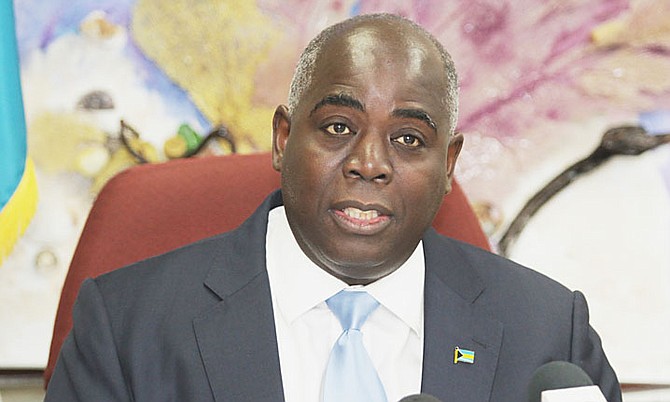 By RASHAD ROLLE
Tribune Staff Reporter
rrolle@tribunemedia.net
DEPUTY Prime Minister Philip "Brave" Davis dismissed Marco City MP Greg Moss' statements about the motives of parliamentarians pushing the passage of the constitutional referendum's fourth bill as "rubbish" yesterday.
Days after Mr Moss told a group of pastors attending a forum at Evangelistic Temple that some parliamentarians are pushing the bill because of their homosexual identity, Mr Davis reacted yesterday, saying: "It's rubbish, total rubbish and not worthy of a response."
Mr Moss is one of several prominent people trying to convince Bahamians not to support the fourth bill. He told pastors that some parliamentarians want the bill passed as a way of protecting themselves for life after politics.
He added that the more he speaks to ordinary Bahamians the more he has become convinced that the entire referendum will fail.
He also criticised the government's decision to use public funds to boost the YES Bahamas campaign, which is headed by Senate President Sharon Wilson and former Senate President Lynn Holowesko.
Asked last week if pastors should sue the government for its failure to provide the No campaign with funds, Mr Moss suggested that doing so would not reap a significant outcome because the courts won't grant an injunction to stop the process and nor will it award costs to the winning party.
Asked about this yesterday, Mr Davis said: "Representations have been made to the Ministry of Finance (requesting funds for the vote 'no' campaign) and the matter is under active consideration. The results of that I cannot speak to."
National Security Minister Dr Bernard Nottage, who has responsibility for referendums, told The Tribune yesterday that he would speak to the issue of costs and funding during a contribution in the House of Assembly later this week.
The first bill would give Bahamian women who are married to foreign men the right to pass on their Bahamian citizenship to any child of that union no matter where that child is born. The Constitution currently says that only Bahamian male citizens by birth have that right.
Bill two would give a Bahamian woman married to a foreign man the right to secure for her husband the same access to Bahamian citizenship as a Bahamian male has in relation to his foreign wife.
Bill three would grant any unmarried Bahamian man the right to pass on his Bahamian citizenship to any child he fathers with a foreign woman with proof of paternity. The fourth bill seeks to end discrimination based on sex.
The referendum will be held on June 7.