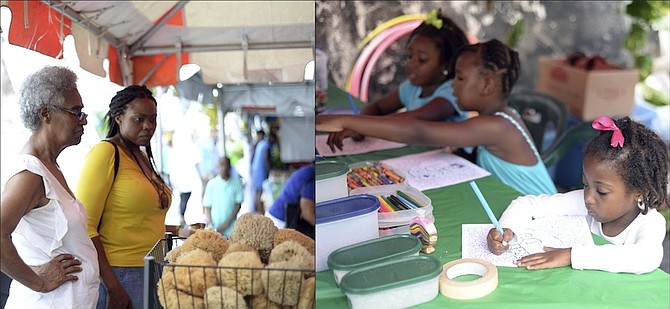 By ALESHA CADET
Tribune Features Reporter
acadet@tribunemedia.net
THE Green Earth Festival last weekend proved that Bahamians are becoming increasingly interested in living green and eating healthy.
Since its launch five years ago, the event has grown by leaps and bounds, as was evidenced by the fact that it was expanded from a one-day affair to two full days of celebrating health in body, mind and spirit. Taking place at Fort Charlotte, organisers said the festival attracted hundreds of Bahamians and provided them with the tools to wellness and green living.
In spite of intermittent rain showers, the festival got off to a successful start on Saturday. Activities and vendors included Knotty By Nature, A Natural Hair Affair, Raw Live Chef Show Down, Natural Life Kids Club, Shop Evolve, Eat Rite Delight, Green City Organics, fitness demos, electric car test drives, belly dancing and more.
One festival-goer told Tribune Health she is just now moving towards choosing better eating options for her children and herself. She said for years she never took note of the importance of eating the right food, but she is open to learning about better alternatives.
"A friend told me about the Green Earth Festival and I added it to my list of things to do this year. So far I've checked out a few food vendors and viewed a few art pieces. Surely, whatever I learn, I will pass onto my household. At the end of the day, healthy living is expensive but worth it," the festival-goer said.
Another guest, Sam Taylor, said this was also her first time attending, and she found the event to be a great environment for health enthusiasts like herself.
"It connected me with different businesses that focus on health conscious foods and initiatives. These events are important because it makes the general public aware of the need to live better lives. I struggled with it in the past and I found that these new local businesses that promote the lifestyle made it easier for me, as opposed to buying products abroad," she said.
Festival organiser Aisha Nesut Ani was excited to see the festival's success. She admitted that even she was surprised to see the display of so many green and sustainable products offered at the festival.
"There is a taste of everything here that relates to choosing healthier options. We have vendors here like Easy Car Sales. They have their electric cars on display. With those cars no gas is used, you just plug it in and go. I am just finding about them myself through the Green Earth Festival," said Aisha.
She said the aim of the festival remains the same: to share information and showcase local companies that support all things green – green energy, green environments, green eating and green living.
"We have vendors here with everything from vegan food to handcrafted items. I feel like we have to be able to sustain what we have, whether through recycling, shopping local and buying Bahamian. Most of the small businesses do not have the budget to do mass marketing, so these type of events are important and it helps them to reach out to their consumers," said Aisha.
Like Aisha, festival founder Rhonda Wright is also excited about the festival's growth. She said there has been a lot more education and awareness in regards to the general public when it comes to green living.
"You can see just by what's happening in the stores. The demand has increased because of what is on the shelves. There is no question that wellness is at the top of people's minds; being more friendly to the Earth, animal friendly and more. It is becoming evident that people are taking note and are making changes. As a result of the festival doing its part to contribute to raising awareness, so has the festival grown," said Rhonda.
She said the exhibitors all did a wonderful job in displaying their work and festival-goers were pleased to see the new aspects that were added to the event this year.
"Some of those aspects included companies like Knotty By Nature and A Natural Hair Affair, so this specific part is a mini event catering just to naturalists and those who want to learn about that lifestyle. We also this year introduced Raw, Live and Unscripted Showdown, which is a fun, friendly show amongst chefs. Persons have the opportunity to see their dishes prepared in front of them as well and they also have the chance to get the recipe and sample it at the same time," she said.