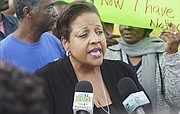 By SANCHESKA BROWN
Tribune Staff Reporter
sbrown@tribunemedia.net
LONG Island MP Loretta Butler-Turner yesterday questioned former Court of Appeal President Dame Joan Sawyer's motives after Dame Joan labeled the June 7 constitutional referendum "a waste of time."
In an interview with The Tribune, Mrs Butler-Turner said what "bothered" her the most about Dame Joan's comments, was the former chief justice's declaration that if she did vote, she would vote no, despite not reading any of the proposed questions.
"Dame Joan is misleading the electorate," Mrs Butler Turner said.
"There are laws already on the books against discrimination based on religion, creed, sex and the list goes on. Clearly, any form of discrimination can be dealt with from a judicial standpoint once proven in the courts but this referendum is about equality not discrimination.
"This is about equality for men and women where they are not able to pass citizenship. This is about equality for our boys and girls. What really bothered me and most Bahamians is the fact that persons like Dame Joan Sawyer have reached the pinnacle of their legal career, she retired as the chief justice and the fact that she was able to make such strong pronouncements in the absence of facts, really gives me reason to question the motive.
"I would think in the regard that I hold her, I would want to know before she speaks to an issue as critical as this, she would be speaking from a position on knowledge, it seems that she has put these statements out there and by her own admission has not read or studied them."
Dame Joan served as chief justice from 1996 to 2001. That same year she was appointed president of the Court of Appeal, a post she held until she retired in 2010.
Attorney General Allyson Maynard-Gibson also responded to Dame Joan's comments. In a statement released Monday night, Mrs Maynard-Gibson said the main purpose of the referendum is to ensure that "equality under our laws be enshrined in our nation's most important legal document".
She added: "Our Constitution currently prevents Parliament from passing laws which discriminate on the basis of race or religion; this referendum is an opportunity to also specifically prevent new laws which might discriminate against a Bahamian citizen because they are male or female. The courts have repeatedly found that Article 15 does not guarantee equal rights. Article 26 is the only provision which deals with discrimination. It must therefore be amended if Bahamian men and women are to be able to count on equal treatment under our laws.
"Additionally, it cannot be doubted that the citizenship provisions of our Constitution currently disadvantage women, and in one instance, men, in their ability to transmit their citizenship to their children and spouses. Amendments one, two and three address this unfairness, which has an impact on so many of our families.
"Bahamians understand that men and women will always be different, but that as citizens, they should be treated equally. And many Bahamians agree: this is an historic opportunity to make sure our children and grandchildren share the same rights and the same opportunities," Mrs Maynard-Gibson said.
The referendum is scheduled for June 7.