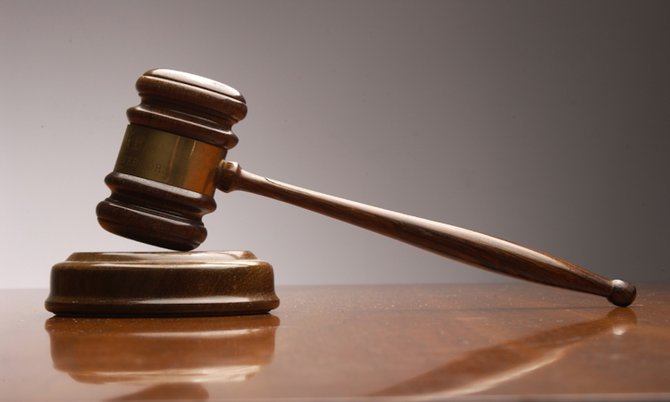 By LAMECH JOHNSON
Tribune Staff Reporter
ljohnson@tribunemedia.net
A JURY heard yesterday that Freddie Solomon Ramsey, accused of accepting a bribe, denied any involvement in the Alstom SA/Bahamas Electricity Corporation (BEC) bribery scheme and was asked more than 100 questions during an interview in police custody.
Inspector Deborah Thompson, of the Central Detective Unit, was the last Crown witness called to give evidence of her role in the investigation of allegations that the French company Alstom SA allegedly paid more than $300,000 to a BEC board member to influence the awarding of the New Providence Phase Two and Three contracts between 1999 and 2003.
She was given the investigation on May 1, 2015 by Deputy Commissioner of Police Anthony Ferguson, the jury was told.
"A production order was served on (former BEC General Manager) Kevin Basden requiring him to produce board minutes, tender evaluations and anything related to the awarding of the contracts to Alstom," the witness said.
She said the investigation led her to interview a number of individuals, including former BEC Chairman J Barrie Farrington, and numerous board members, including Sharon Brown and William McDonald.
The investigator said she also saw and spoke with prosecution witness Mark Smith, an American, who gave her information and handed to her a number of documents, including a consultancy agreement, bank statements and emails. Smith, an admitted bribe taker, was given immunity from prosecution in exchange for his testimony.
Insp Thompson said she also saw and spoke with former Deputy Prime Minister Frank Watson during the course of her investigation.
"On August 24, 2015, I arrested Freddie Solomon Ramsey in connection with bribery," the witness said.
Ramsey, 79, is currently on trial before Justice Bernard Turner on four counts of conspiracy to commit bribery and 14 counts of bribery allegedly committed between 1999 and 2003. He has pleaded not guilty to all the charges.
Ramsey is on $40,000 bail and is represented by attorneys Wayne Munroe, QC, Tommel Roker and Bridgette Ward.
Garvin Gaskin, acting director of public prosecution, is prosecuting the case with the assistance of Cordell Frazier.
Insp Thompson told a jury yesterday that Ramsey denied having any involvement in the bribe scheme during an interview in which 101 questions were put to him in the presence of his then-lawyers Roger Minnis and Khalil Parker.
Ramsey was asked if he understood the caution regarding the allegations and his right not to answer and/or consult with his attorneys who were present. Ramsey said "yes".
Ramsey confirmed that he was an insurance executive who operated his agency.
He was asked if he owned any other businesses in the past.
"I was part owner in Caribbean Supplies Bahamas Ltd (CSBL)," Ramsey answered, describing the business as an import-export service he had founded more than two decades ago.
When asked who were the other owners, he said Ted and Mark Smith. He said the latter was the son of Ted who had passed away long ago.
The detective asked Ramsey if he operated bank accounts for CSBL and the insurance executive said he did, noting that it was likely to be Royal Bank of Canada.
When asked where the company purchased from, Ramsey said CSBL imported items from the Caribbean and North America.
Ted Smith, Ramsey claimed, dealt with clientele.
He was asked if he was familiar with a company called M Smith Inc, to which he replied "no."
He was asked if he served as a board member at BEC and he said "yes", notwithstanding that he declared his interests in CSBL, which supplied materials for BEC.
However, he maintained that he was not an executive at the corporation during J Barrie Farrington's tenure as chairman.
He also denied being appointed to a sub committee responsible for contracts. He said his appointment to the board was the result on an invitation extended to him by the former prime minister.
Ramsey denied influencing the contract or tendering evaluations for the DA-11 and DA-12 projects.
It was suggested to him during the interview that he had a close business relationship with Mark Smith.
"I had a relationship with Ted Smith. When Ted Smith died, the company (CSBL) died. Ted Smith was the machine that ran the company. The last time I saw Mark was at his father's funeral," Ramsey told police.
He was asked if he was familiar with ABB Generacion.
"I heard of it," Ramsey told the investigator at the time.
However, he denied approaching an official at the company regarding the contract, noting that he heard of it through board meetings. He also denied being a consultant and assistant for ABB/Alstom.
"When it came to a vote on the board level, the whole board voted," Ramsey told police.
It was suggested to him he received a cut of some $600,000 for his alleged assistance to the French company to which he replied "no, ma'am."
He was asked if he had a US bank account with Bank Atlantic. He said he did.
It was suggested to him that the account was used to receive his cut for bribes. Ramsey denied this.
"Whatever funds were owed to me was deposited there," he told the investigator.
He was asked about a number of cheques paid to CSBL for his help allegedly in connection with the DA-12 project that was negotiated between him and Mark Smith in a consultancy agreement.
Ramsey denied this.
"Me and Mark Smith never negotiated anything. Ted and I always did business," Ramsey stressed to the investigator.
Inspector Thompson said Ramsey signed the record of interview and a month later he was charged in relation with the matter presently before the courts.
Mr Munroe, in cross-examination, asked the investigator if she interviewed the former prime minster, Hubert Ingraham. The detective said she did not.
She said she only interviewed the former deputy prime minister and the questions posed to him were general.
Mr Munroe asked her if she was aware that Ramsey had suffered a stroke and was undergoing treatment with a neurologist.
The witness said she was not.
Following her evidence, the Crown closed its case.
Justice Turner will hear legal arguments on Wednesday at 11am in the absence of the jury.