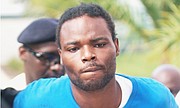 By LAMECH JOHNSON
Tribune Staff Reporter
ljohnson@tribunemedia.net
A MAN challenging two rape convictions in the Court of Appeal is looking to have them heard separately.
Oscar Ingraham appeared before the appellate court for his substantive hearing of his appeals concerning the separate sexual assaults of two women in 2012.
For the first attack, which took place on February 28, 2012, Ingraham was given ten years for burglary, 15 years for each of the two counts of armed robbery and 25 years for rape.
Regarding the second incident, which happened between 11pm on May 29 and 5am on May 30, 2012, Ingraham was sentenced to 15 years for burglary, 20 years for the single count of armed robbery and 30 years for rape.
The sentences for the two incidents were imposed on the same day - October 7, 2014 - and were ordered to run concurrently. His appeals were filed jointly.
Notably absent from yesterday's hearing was Ingraham's lawyer, Wayne Munroe, QC.
Crown respondent Darell Taylor told the court the appellant had to serve the Crown with documentation of his formal request for his appeals to be heard separately.
The appellate court confirmed to associate attorney Roberto Reckley that nothing had not been filed on the February 26 deadline, notwithstanding Mr Munroe's undertaking to do so.
His notable absence was explained by Mr Reckley.
"Mr Munroe is before the Supreme Court in a jury trial that began last week. It was anticipated it would have already been concluded but that's not the case," Mr Munroe's associate said.
Mr Reckley added that he was not familiar with the matter and sought an adjournment.
"Mr Munroe should have anticipated that he would have had the big case coming up and he ought to have given instructions to one of his associates. He's not a one man band," Justice Dame Anita Allen said.
The appellate court asked about the whereabouts of a junior lawyer who appears on the record for Ingraham.
Mr Reckley said attorney Ryszard Humes was not feeling well and out of office since Monday.
"If he was sick two days ago, why didn't he give someone else the file?" the appellate president asked.
Mr Reckley said he was only seeking an adjournment because it would not be fair to the appellant to be disadvantaged by having someone unfamiliar with the matter argue his appeal.
The adjournment was granted to June 2.