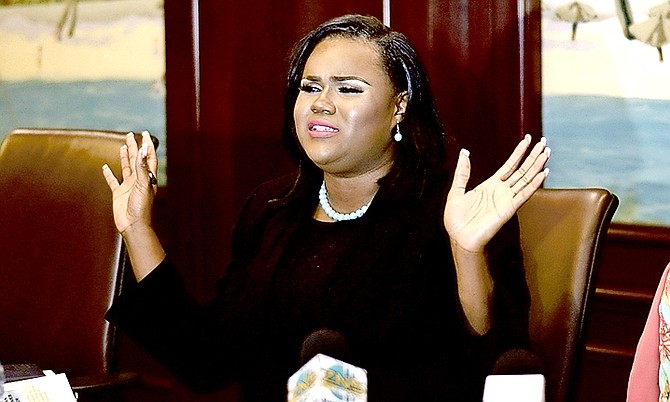 By SANCHESKA BROWN
Tribune Staff Reporter
sbrown@tribunemedia.net
THERE are more than 50 transgender male, female and youth living in the Bahamas, according Bahamas Transgender Intersex United spokesperson Alexus D'Marco.
In an interview broadcast on the 96.9 FM radio show "The Revolution" with host Juan McCartney, the self-proclaimed "first lady" of the LGBT community said the purpose of Bahamas Transgender Intersex United (BTIU) speaking up now has "nothing" to do with the upcoming gender equality referendum.
In fact, Ms D'Marco said the government made it clear that the referendum has nothing to do with gay marriage and the group is not yet advocating for that right.
She said she does not believe she has hurt the referendum by advocating for equal rights for transgender Bahamians because "Bahamians are going to do what they are going to do".
"Students are being thrown out of school because they are identifying as transgender," she said yesterday.
"Schools are saying 'we don't want that in here.' Parents are throwing children out because they are transgender. Ten-year-old children are being kicked out because they are gay, 11-year-olds are being thrown in the streets to be molested and abused. There is a problem in this country," Ms D'Marco said.
"We just want to bring to light the issues. It has been made clear that the referendum is not for gay marriage, it is about discrimination across the board. If you are going to talk about equality, we have to deal with the whole issue of equality.
"I am glad this conversation has begun. Equality across the board means equal for all. Basic protection and rights as Bahamians we don't have, that is what we want. We haven't hurt it (the referendum) because Bahamians are going to do what they are going to do regardless, people's minds are already made up. They already know if they are going to vote yes or no. I haven't hurt the referendum and that is not our intention."
BTIU launched its multi-level equality campaign, "Bahamian Trans Lives Matter", which seeks to secure equal rights for transgender Bahamians on Tuesday.
During a press conference at the Hilton, BTIU representatives called on the Christie administration to ensure that the fundamental rights of all genders of Bahamians - male, female and transgender - are protected. However, the group stressed that it is not trying to shift the focus of the gender equality referendum.
The group is calling for equal access to healthcare, education and employment without discrimination.