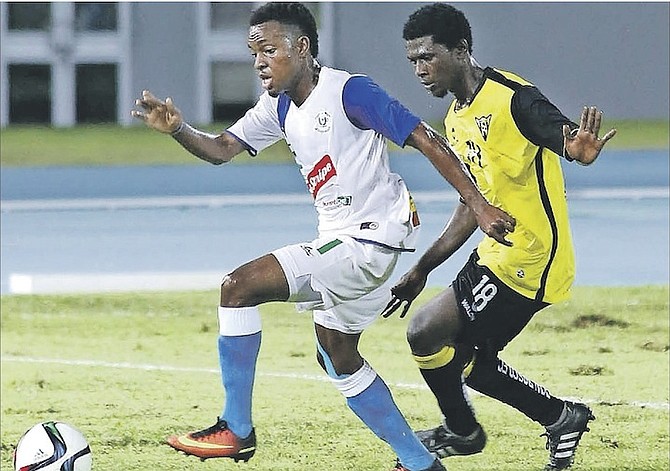 By BRENT STUBBS
Senior Sports Reporter
bstubbs@tribunemedia.net
THEY didn't draw the huge crowd that they anticipated, but the hundreds who showed up on Friday night got their money's worth as Haiti's Don Bosco Football Club, behind Kerlins Georges' goal and another from their opponents, blanked Jamaica's Montego Bay United 2-0 at the new Thomas A Robinson National Stadium.
Georges' goal came in the 66th minute in the second half to break a scoreless first half and just before stoppage time, Cory Zico booted in the other in their own Jamaican goalpost to seal the deal and set up a possible showdown between Haiti and Trinidad & Tobago before year's end.
"I feel so good because I scored the first goal," said Georges' as he spoke through interpreter Lubi Georges. "We worked so hard to win this game, so it was important for me to score so that we could win."
Georges said it was even more exciting to be in the Bahamas playing the game because the Bahamas Football Association and the National Sports Authority did a fantastic job in hosting them for the first time and he's hoping that they can return and do the same whenever the next match is played.
Martin Junior, the head coach for Don Bosco, said his team played very well.
"We know that the Jamaican team is a very hot tram. They have some very good players, but we showed today what we can do" he said. "We played some goods positions and we did what we had to do to win. Thanks to the goal from Kerlins. We went ahead and we stayed ahead."
Junior said the team is just a tune up for his squad when they return to Haiti to play another international game on Wednesday.
Dillan Theleel, the assistant coach for Jamaica, said their aim was to win but they wanted to use the game more to put their team together for the upcoming season.
"Our team just started pre-season and on;y about five of our regular players are here. The rest of the players are here to showcase themselves to see how they can assist our group," he said. "I think the team gave a good account of themselves, but this was a learning experience for us as coaches to see who we will continue with and who we will cut from the team."
Theleel, however, said it was good to come to the Bahamas and put on the show for the crowd. He said they enjoyed the trip and are looking forward to coming back in the future.
BFA president Anton Sealey admitted that despite their last start in the promotion of the event, they were pleased with the crowd who came out to witness a high level of soccer competition.
"These are two entertaining sides and I think the fans who came out enjoyed it, got their money's worth and are whetting their appetite for what is to come," he projected.
What's next?
"Wee will bring up the champions from Trinidad to play Don Bosco as the winners of this match," h proclaimed. "They also had the lion's share of the crowd and we are expecting an even larger crowd out when they play. We know that Don Bosco will be looking to put on another show, but Trinidad & Tobago is also a formidable foe, so it should be another entertaining match."
Look for that match sometime in October-November just before the Bahama Bowl return in December.
And next year, Sealey said the BFA intent to display its men's league champions against the winners of the Haiti-Trinidad & Tobago match.
With some of the top men's players in Switzerland in a training camp in preparation for the World Beach Soccer Tournament next year, the BFA featured some of their future stars as the 2012 junior boys national team prevailed 1-0, thanks to a goal from team captain Isiah Collie, over the 2014 junior national team.