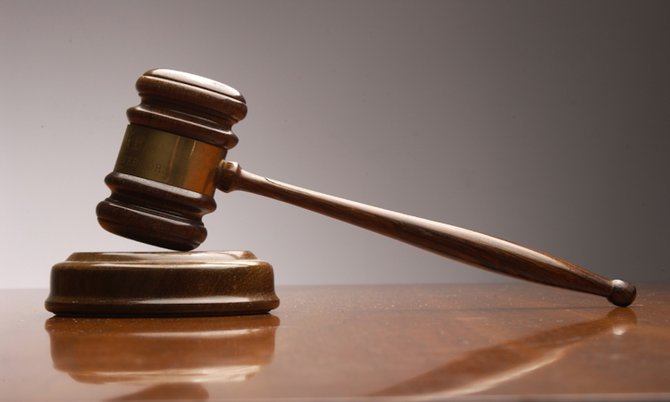 By LAMECH JOHNSON
Tribune Staff Reporter
ljohnson@tribunemedia.net
TWO men were remanded to prison on Friday after they were arraigned in connection with a spree of muggings in Nassau last week.
Andrew Johnson, 22, and Andre Green, 23, appeared before Chief Magistrate Andrew Forbes together charged with two counts of armed robbery.
It is alleged that the Malcolm Road residents, on July 27, robbed Goshon Fox and Errin Kelly at gunpoint of a $250 Michael Kors (rose gold) watch and a $120 Samsung J1 Ace cellphone.
Green, a Jamaican, was charged with the lesser crime of receiving. It is alleged that he was found in possession of the watch on July 31. He was then charged with additional counts of armed robbery concerning other incidents.
It is alleged that on July 29, he robbed Pauline Singh-Pritchard of $300 cash, a $550 Samsung Galaxy S4 cellphone, a $45 handbag, her Bahamian spousal permit and other personal items that were in the handbag at the time of the gunpoint robbery.
Also on that day, Tazani Sweeting was accosted at gunpoint and relieved of a $900 iPhone 6s. Green is alleged to be the culprit.
It is further alleged that on July 31 Green robbed Takesure Jeche and Ruth Masiyazi of $70 cash, a $100 permit, a $150 Huewai cellphone, a $100 Microsoft cellphone, a $100 black handbag and other personal items and assorted clothing. He is alleged to have been found in possession of the two cellphones, resulting in the additional charge of receiving.
Johnson was charged in connection with an armed robbery on July 29. It is claimed that he accosted John Johnson at gunpoint for his $50 leather wallet and $100 Nokia cellphone.
The chief magistrate told the accused that they would not be required to enter a plea to the vast number of charges laid against them until a formal arraignment in Supreme Court.
It is expected that on their return to Magistrates Court on August 18, they would each receive a Voluntary Bill of Indictment transferring the matter to the higher court for trial.
As the court does not have jurisdiction to consider bail on such offences, the Malcolm Road residents were remanded to the Department of Correctional Services to await trial. However, they can apply for pre-trial release from the Supreme Court.
Green, who has retained attorney Jomo Campbell to defend him, made allegations of physical treatment at the hands of police during his six-day stint in police custody. He also claimed that he was denied access to prescribed medication.
Chief Magistrate Forbes made a note of the complaints before remanded the accused men.
Johnson was unrepresented in Friday's arraignment.