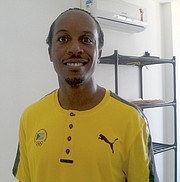 By BRENT STUBBS
Senior Sports Reporter
bstubbs@tribunemedia,net
RIO de Janeiro, Brazil: While he should be focusing on his race strategy against an anticipated field of quality quarter-milers at the Olympics, veteran Chris 'Fireman' Brown is more concerned about his luggage.
After heading to Rio in good spirits to compete in his fifth and final Olympic Games, Brown said he arrived without his bag and he's not sleeping too comfortably in the Games Village.
"So far so good. I give God thanks for allowing me to be here," said Brown as he spoke to the Bahamian media in the Bahamas' section of the huge games village. "Everything is going well, except for the mishap with my luggage, but it's good to be here and to be alive."
On route to Rio in between his flight from Atlanta, Georgia to Chile where he made a stopover before getting into Brazil, Brown said he encountered the problem.
"When you're traveling all around the world, anything is possible," he proclaimed. "It's unfortunate that I made it safe, but my bags didn't make it with me on the same flight,"
Since arriving in Rio on Thursday, Brown was able to take advantage of the Puma uniforms that have been distributed to the members of the team to wear as the official sponsor for Team Bahamas.
"I need my bag because I have some stuff in there that I need," Brown said. "They are not sure where my bag is and when it will reach here. So I'm keeping my fingers crossed that it will show up before I step up on the track."
Brown, the 37-year-old who has won an individual medal at every major international event except the Olympics, won't start competing until Friday, August 12 when the preliminaries of the men's 400m will take place.
He has assured the public that he's been training to run the open 400m along with Steven Gardiner and Alonzo Russell before he helps the Bahamas defend their title in the men's 4 x 400m relay on Friday, August 18.