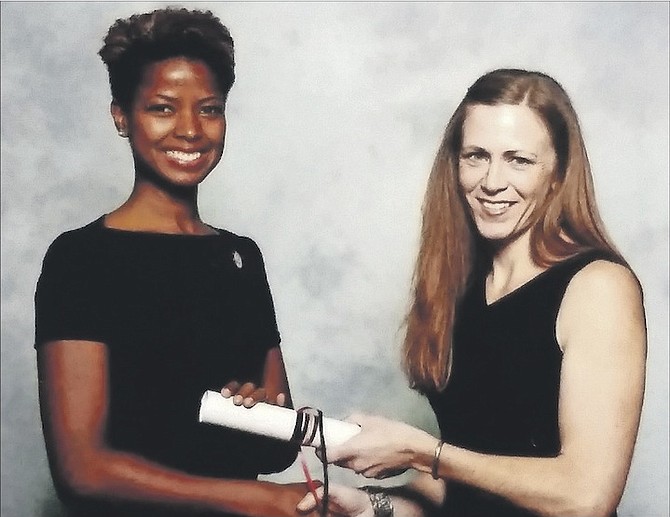 By JEFFARAH GIBSON
Tribune Features Writer
jgibson@tribunemedia.net
A local doctor has achieved not only a major milestone in her career, but is also about set a new standard for physical therapy when it comes to women's health here in the Bahamas.
Dr DeVonnia Bonimy-Lee was the first ever physical therapist with a clinical doctorate to register with the Health Professions Council in 2007.
Also, after receiving her certification in the United States, she is now the first clinical specialist in any physical therapy field in the Bahamas.
Currently working as coordinator of the Rehabilitative Services Department at Doctors Hospital, Dr Bonimy-Lee is not only blazing her own trail, but also aims to take specialised physical therapy in the country to the next level.
Patients can benefit greatly from a physical therapist whose role is to help reduce pain and improve or mobility that can in some cases eliminate the need for surgery as well as long-term use of prescription medication.
The women's health section of physical therapy, Dr Bonimy-Lee explained, is dedicated to the improvement of both women's and men's health globally.

"The section started with a focus on the child-bearing woman and has developed over the last few decades. Therapists who work in this setting treat patients with impairments across their life span: young athletes, the child-bearing women, to the peri-menopausal women, adult and elderly men," she explained.
"The scope of this therapy includes treating patients with health issues associated with breast, ovarian, cervical and prostate cancer, paediatric and male pelvic health, constipation, urinary and bowel incontinence, prenatal and postpartum musculoskeletal pain/dysfunction, lymphoedema, osteoporosis and fibromyalgia."
Specialised forms of physical therapy, Dr Bonimy-Lee said, are needed here in the Bahamas because there are many people who suffer issues that can be remedied by undergoing treatment.
"When it comes to very personal health concerns, which may be embarrassing or misunderstood, even fewer know that there is help available. In the Bahamas, we have increasing numbers of those suffering with cancer, those who have undergone radiation therapy and are living with the side effects of having had radiation in the pelvic and breast region. There are now more resources through physical therapy to improve their quality of life," she said.
"Female athletes are at a higher risk of stress urinary incontinence (leakage) than their male counterparts, which affects sport performance, but it is under-reported. There is assistance through physical therapy to reduce risk and improve function."
She also said many patients with vaginal, lower back and abdominal pain may not be aware that their symptoms are linked and that they need the assistance of a women's health physical therapist to get relief.
Dr Bonimy-Lee came to the field of specialised physical therapy during her studies in the US.
After graduating from St Andrew's High School in Nassau, Dr Bonimy-Lee started an Associate degree programme in bio-chemistry at the College of the Bahamas, before transferring to an undergraduate programme and attaining a Bachelor of Science degree in Biology from North Georgia College and State University.

While in Georgia, she was a work/study student-assistant to the physical therapy programme.
Sometime later, Dr Bonimy-Lee took time off to volunteer at the Shepherd Centre (Spinal Cord and Brain Injury Rehabilitation Centre) in Atlanta, Georgia, and with the Special Olympics New Jersey nonprofit organisation.
She then decided to apply to a physical therapy doctorate programme. She completed a four-year doctorate programme in physical therapy at Seton Hall University.
Dr Bonimy-Lee was introduced to physical therapy while employed at the Memorial Sloan Kettering Cancer Centre in 2010. She continued working in this field at the NYU Langone Medical Centre/RUSK Institute.
"During the work/study opportunity in Georgia I met an amazing woman, Dr Lynda D. Woodruff, an expert in clinical electrophysiology in the field of physical therapy. She was one of two of the first black students in the 1960s to desegregate her high school in one of the southern states of the US. When I told Dr Woodruff that I wanted to be a cellular pathologist she laughed, and in her very southern accent she said: 'Girl, you're a people person! What you going to do, look through a microscope all day? I don't think so. Be a physical therapist!'
"So I thought about it; volunteered in Atlanta and applied to a school in New Jersey. I learned a lot through her mentorship. I was also drawn into this healthcare profession because it offered so many different career pathways," she said.
In November 2015, Dr Bonimy-Lee passed the American Board of Physical Therapy Specialties' seven-hour exam for the Women's Health Clinical Specialist Certification. In February 2016, she attended the American Physical Therapy Association's recognition ceremony in California to formally accept the new credential.
For Dr Bonimy-Lee this is a major accomplishment and further proves her dedication to the field.
"To even enter this profession, there are strict regulations for the academic institutions and challenging academic eligibility requirements for the applicant specifically. This is especially true in countries with mandatory national accreditation regulation. Physical therapists, as I experienced in the US and Australia, are highly-trained, well-qualified, non-physician healthcare professionals who understand the importance of the multidisciplinary approach and are critical in maintaining, restoring and improving all movement impairments, for any age," she said.
"Secondly, as a clinical specialist I have joined my mentors, the advanced clinicians, and have now been recognised for my contribution and dedication to the profession and to my patients. US Board Certification also means that my qualifications immediately make me readily recognisable as a trustworthy clinician internationally. It is a massive accomplishment professionally because it provides more opportunities as a clinician."